Uwe Boll Is Not Happy About Dwayne Johnson's Rampage Movie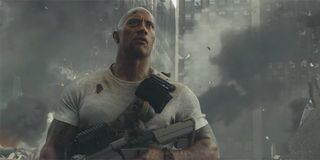 Next month sees the release of Rampage starring Dwayne Johnson and based on the video game of the same name. This will be the latest film to try and break the video game curse in the movie realm, a curse that may or may not still be a thing, depending on your perspective. One person who is more responsible than most for the bad name attached to video game movies is moviemaker Uwe Boll. The German director behind such classics as Far Cry and Bloodrayne has taken major issue with the upcoming Dwayne Johnson movie and has made Rampage the subject of his wrath. Uwe Boll made his thoughts known to the masses, eloquently stating:
Yikes. So he seems very mad, and is even threatening legal action. Now this isn't just Uwe Boll's normal railing against a Hollywood that he sees as mindless brainwashing, this is actually much more specific. For those unfamiliar with his oeuvre, Uwe Boll wrote and directed a film called Rampage back in 2009. He also wrote and directed a sequel in 2014, titled Capital Punishment and a third film in 2016 called Rampage: President Down. So this is very much a title and brand that is important to him. Thus he sees this new Rampage as infringing on his rights and property, as he said on his blog:
As far as Rampage piggybacking off Uwe Boll's film, that is a bit ridiculous. Respectfully, the average moviegoer who will go see The Rock's film has probably never heard of either of Uwe Boll's films or made any such connection. Uwe Boll also neglects to acknowledge the fact that this new film is based on a 1986 arcade game of the same name, one that predates his Rampage film by over two decades. But it is not just the name that Uwe Boll is taking umbrage with, he sees this new blockbuster as ripping off his movie in multiple aspects, as he said on Twitter:
So beyond just the name, Uwe Boll has taken issue with the font being used on the posters and marketing materials for the Dwayne Johnson Rampage film. He sees it as being too similar to the font used for Rampage: President Down. The two fonts both use big, bold capital letters and spell out the same word but they are not exactly the same. The new Rampage's font is more beat up looking and is a more condensed, taller font than Uwe Boll's version. Take a look for yourself below:
I get that in Uwe Boll's mind, this new movie is using the name of his film's to sell itself, but that doesn't seem very likely. If anything, should he continues his franchise, it may even benefit from the similar naming, until audiences realize halfway through that there are no giant wolves in it, of course. I don't really see there being enough of an intersection of audiences and venues for people for this to be a major problem. Uwe Boll is going to Uwe Boll though, so we'll keep you updated on this latest rampaging. The Dwayne Johnson film Rampage, directed by Brad Peyton, not Uwe Boll, is in theaters on April 13th.
Nick grew up in Maryland has degrees in Film Studies and Communications. His life goal is to walk the earth, meet people and get into adventures. He's also still looking for The Adventures of Pete and Pete season 3 on DVD if anyone has a lead.
Your Daily Blend of Entertainment News
Thank you for signing up to CinemaBlend. You will receive a verification email shortly.
There was a problem. Please refresh the page and try again.