Why Rampage Was The Perfect Video Game To Adapt, According To Dwayne Johnson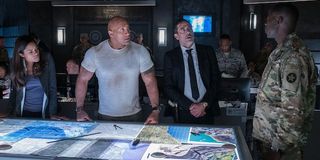 It's safe to say that the video game genre has come in for a lot of abuse over the last few years. But while the recently released Tomb Raider proved that it's not impossible to make an engaging and hugely entertaining film of such ilk, Dwayne Johnson is confident that Rampage is finally going to put the supposed "curse" of the video game adaptation that has blighted Hollywood for so long to bed once and for all.
Dwayne Johnson admitted as much to CinemaBlend when we were lucky enough to visit the set of Rampage last year. When he was asked what made Rampage the perfect game for adaptation, Dwayne Johnson responded:
For director Brad Peyton, the reason why Rampage is the perfect video game to adapt was much simpler. Peyton had a much more serious response as well, though, as he insisted that he was immediately attracted to how much he could deviate from the source material, and expand it into a fully fledged cinematic world. Peyton said:
The director continued.
Here's what Rampage will look like:
We'll get to see if Dwayne Johnson and Brad Peyton succeeded in expanding Rampage into a fully-fledged movie when it is released on April 13.
Your Daily Blend of Entertainment News
Thank you for signing up to CinemaBlend. You will receive a verification email shortly.
There was a problem. Please refresh the page and try again.