How The Rampage Movie Will Build Upon The Video Game, According To The Director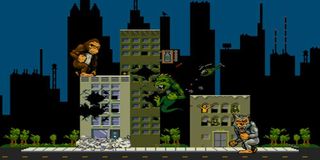 Ever since it was announced that Warner Bros. is currently working on an adaptation of the video game Rampage audiences have been trying to figure out exactly what it will entail. That's because its source material simply revolved around gigantic monsters trying to reduce a city to rubble while the military attacked them. But, director Brad Peyton has now given us an indication of how Rampage will build this video game into a fully fledged cinematic adventure, revealing that the plan is to take a look at the laboratory that would make the lizard, the ape, and the wolf so enormous and aggressive in the first place.
Brad Peyton explained how Rampage will evolve the video game to We Got This Covered while promoting his latest film Incarnate, a supernatural horror film starring Aaron Eckhart. At the same time, he couldn't help but have a little dig at previous video game adaptations. Brad Peyton explained:
Seems to make sense to me. Helping Brad Peyton in his quest to bring Rampage to the big screen is Dwayne Johnson, which is rather handy as he's the biggest movie star on the planet at the moment, both figuratively and physically. Brad Peyton and Dwayne Johnson previously worked together on both 2012's Journey 2: The Mysterious Island and last summer's San Andreas, which grossed $474 million and was stupid but fun. Brad Peyton admitted that reteaming with Dwayne Johnson was just one of a number of reasons why he's excited to be working on Rampage :
Brad Peyton and Dwayne Johnson better get used to each other, as the duo are also developing Journey 3: From The Earth To The Moon and San Andreas 2 on top of Rampage together. Meanwhile, Incarnate will hit cinemas at the end of this week on December 2, while Rampage is set to beat the other two to release as it's due out in April, 2018, with production set to begin early next year.
Your Daily Blend of Entertainment News