A New Fantastic Four Series Is Coming At Marvel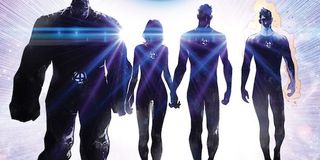 It's been a few years since the Fantastic Four appeared in a movie, but that's also been true for the team in the comics. At the end of the 2015 storyline Secret Wars, the Fantastic Four disbanded, and while Ben Grimm, a.k.a. The Thing, and Johnny Storm, a.k.a. The Human Torch, have been running around on Earth, Reed Richards, a.k.a. Mister Fantastic, and Sue Storm, a.k.a. Invisible Woman, have been traveling across the universe with their children and the Future Foundation to rebuild the multiverse. Well, folks, Marvel's First Family is finally coming back together, which has us wondering if this will have any implications on the team's cinematic future.
It was announced today that a new, ongoing Fantastic Four comic book series is launching in August, which is being written by Dan Slot, who is wrapping up his 10-year run on The Amazing Spider-Man and will also be writing Tony Stark: Iron Man, while Sara Pichelli of Ultimate Comics: Spider-Man fame is handling illustration. The Thing and The Human Torch will still be teaming up with each other in the Marvel Two-In-One series, but for those of you who've been wanting to see the original Fantastic Four team back together, your wish has been granted.
Although characters like Captain America and Namor the Sub-Mariner were around decades before the Fantastic Four was introduced, this team arguably launched what we now know as the Marvel Comics universe. Like a lot of comic book series, they haven't always sold well, but the quartet have always been among the most prominent characters in this world of superheroes and super villains. Seeing them together again, battling bad guys and going on crazy adventures is a welcome return to that classic Marvel flavor. That being said, I am curious if this new comic book series is connected in any way to plans for the Fantastic Four being adapted for film.
While Marvel Comics editor-in-chief C.B. Cebulski said that they'd been waiting for the right "creatives" to become available for this Fantastic Four series, let's not forget that last December, it was announced that Disney intends to purchase 21st Century Fox, and if that deal is finalized, that would mean that Marvel would regain the cinematic rights to the X-Men and Fantastic Four properties. With such a huge purchase on the horizon, maybe the folks at Marvel decided now would be a great time to relaunch the team's book; that way if Disney does acquire Fox, there will be a Fantastic Four series ideally going strong if the MCU decides to release its own Fantastic Four movie.
On the other hand, Marvel (and DC, frankly) is notorious for implementing twists and then undoing them months or years later. For instance, Wolverine died back in 2014, but earlier this year Logan was resurrected and is reclaiming his superhero mantle from X-23. It's possible it was always the plan to set aside the Fantastic Four team for a few years and then bring them back in a big way. Still, if the Fantastic Four is able to one day be incorporated into the MCU, having this series around certainly doesn't hurt.
In any case, you can pick up Fantastic Four #1 starting in August digitally or at your local comic book store. As for the Fantastic Four's film future, stay tuned to CinemaBlend for the latest updates.
Your Daily Blend of Entertainment News
Connoisseur of Marvel, DC, Star Wars, John Wick, MonsterVerse and Doctor Who lore. He's aware he looks like Harry Potter and Clark Kent.