MoviePass Has Lifted Its AMC Ban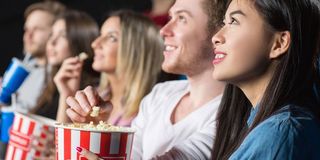 For quite some time, MoviePass has been dealing with a feud with theater chain AMC, a company which didn't stand by and has continued not to stand by the subscription movie service when it decided to greatly slash prices a few months ago. AMC tried to ban purchasing e-tickets using MoviePass for a while in order to keep the service from being used at AMC theaters. Then, MoviePass itself led a charge against AMC by disallowing the use of MoviePass at certain AMC locations. Now, MoviePass has decided to stop banning users from heading to certain AMC locations. This might relieve some MoviePass fans, but we'll have to wait and see if it makes AMC any happier.
If you have been using MoviePass to see films at AMC theaters, that's not totally abnormal. When MoviePass originally dropped the bomb that it wouldn't work with certain AMC theaters, the key word was definitely "certain." At the time, the ban only affected theaters in major markets, New York and Los Angeles, of course, but also places like Boston. The ban also only affected super busy theaters in those popular markets, such as the NYC Times Square location or the Universal CityWalk location in Los Angeles.
Per Deadline, the bans supposedly only happened because the brand new movie subscription service was testing the patterns of its newly huge subscriber base. Only a little under 2% of locations were affected by the ban originally, and it seems as if MoviePass has looked at moviegoing behavior and decided the ban wasn't worth it. Uncharacteristically, AMC has not made a statement about the situation this time around; the theater chain has previously been known to comment when MoviePass has made a change affecting its chain. However, currently AMC and MoviePass are still at an impasse regarding talks that would enable the movie service to get a cut of AMC's revenue. Interestingly, Landmark Theaters has worked out a deal with MoviePass. Other chains, like CineMark, have created passes similar to MoviePass in order to compete.
Currently, MoviePass is continuing to grow. The subscription service is over 2 million users at this point, far exceeding early expectations for how the price cuts would help the company expand. More recently, MoviePass dropped to $6.95 for new users in another price cut that is only supposed to last for a limited time. (A processing fee is also attached to that deal.) The company is hoping to break even on the ticket aspect and then to make money in other ways, including working with theater chains like Landmark and in addition working to help market some smaller films. At the end of the day, the company seems to be surviving just fine without AMC's outward support, but we'll have to wait and see if the subscription company can make money over the long haul. In addition, we'll have to wait and see if AMC tries to do something to compete.
In the meantime, whether or not you are a MoviePass user, there's a lot of good stuff coming to theaters in the coming months, and be sure to check it out with our full schedule.
Photo courtesy of MAD_Production/Shutterstock (opens in new tab).
Amazing Race & Top Chef superfan with a pinch of Disney fairy dust thrown in. If you've created a rom-com I've probably watched it.
Your Daily Blend of Entertainment News
Thank you for signing up to CinemaBlend. You will receive a verification email shortly.
There was a problem. Please refresh the page and try again.