How MoviePass Plans To Expand Into The Music Industry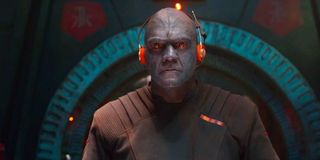 If you keep up with the latest trends in the movie theater world, then there is a good chance that you have heard about MoviePass. The subscription ticket service has changed the game for many moviegoers by turning the pay-per-ticket business model on its head. Now it looks that MoviePass wants to disrupt other forms of media as well, as the company is working to bundle movie subscriptions with streaming music.
It's no secret that subscription-based media is increasingly becoming the norm. In the music world, streaming platforms like Spotify and Apple Music have shown that there's an appetite for monthly fees offering nearly unlimited access to tracks and artists. With that in mind, MoviePass is getting in on the action by bundling access to iHeartRadio's premium music streaming platform. At the cost of $29.95 for three months, the subscription will allow users to see four 2-D movies per month (or one movie per week) and maintain access to a vast library of songs and music playlists.
This offer isn't the first time that MoviePass has bundled access to other media into its subscriptions. In addition to this THR report of access to iHeartRadio music streaming, MoviePass similarly offered users limited-time access to Fandor's movie streaming platform upon signing up for the service.
All of these seems to feed into the fact that MoviePass has made some notable moves in recent months, and its overall goals seem relatively lofty. In fact, the company recently stated that it plans to ensure that its subscriber count more than doubles from 2 million users to 5 million users by the end of the year. Between offering access to these other accounts and consistently reducing its prices, the service keeps attempting to find new ways to galvanize subscriptions and convince people that it's the right financial play.
Of course, while many of these new business models and technologies have become useful to consumers, MoviePass has also made waves and caused quite a bit of controversy as well. MoviePass has come into direct conflict with some theater chains (notably AMC) that don't feel entirely optimistic about how the low pricing could affect exhibitors, and the company has also had to contend with some PR issues relating to customer service problems. However, as MoviePass continues to expand into new areas of entertainment, there's no telling how it will continue to evolve its business model to meet consumer demands.
CinemaBlend will bring you more information related to this latest move by MoviePass (as well as everything else going on with the company) as further details become available to us. For now, head on over to CinemaBlend's comprehensive movie premiere guide to see all of the major films on the horizon for 2018 and get your moviegoing calendars filled out accordingly!
Originally from Connecticut, Conner grew up in San Diego and graduated from Chapman University in 2014. He now lives in Los Angeles working in and around the entertainment industry and can mostly be found binging horror movies and chugging coffee.
Your Daily Blend of Entertainment News
Thank you for signing up to CinemaBlend. You will receive a verification email shortly.
There was a problem. Please refresh the page and try again.