This Rotten Week: Predicting Avengers: Infinity War Reviews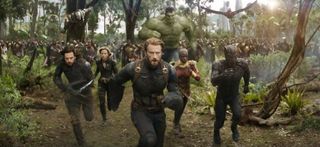 We don't get many movie-release weeks like this anymore. While it's typical to see a major release get balanced out by some counter-programing, this week is special. We are simply talking about one of the most hyped blockbusters of all time. In case you can't tell, this time around we have Avengers: Infinity War. It's time to get excited.
Just remember, I'm not reviewing these movies, but rather predicting where they'll end up on the Tomatometer. Let's take a look at This Rotten Week has to offer.
This one has been a long time coming. The last time this many Avengers were in one movie was Captain America: Civil War, and they were a rather fractured group - with Cap busting his gang out of super prison following an epic battle. But now it's time for their stories to once again converge, this time with the Guardians of the Galaxy gang finally joining the mix.
The Avengers movies, like just about everything else in the MCU, have performed well with critics. Joss Whedon's The Avengers (92%) and even the clunky The Avengers: Age of Ultron (75%) scored well. They've done a solid job of managing so many big characters and motivations on the big screen. Just compare them to the what DC is throwing out there and you can see this is no easy feat. The Russo brothers are on board directing their third MCU after helming Captain America: The Winter Soldier (89%) and Captain America: Civil War (91%). Simply put, this movie looks awesome. There is a risk that the movie could be a bit overcrowded and a bit too busy with so many spinning plates, but it's not an insurmountable issue. I think the movie handles it all, though, and film rates well with critics on almost the spectacle alone.
I went two for three with the predictions last week - and if I sound a little disappointed it's because the week should have been a clean sweep. I had reservations with what I thought the gap between the message and the execution might be in I Feel Pretty (Predicted: 51% Actual: 34%), but I still went a little high on the score as a hedge. It was a mistake. Critics predictably panned the movie for a number of different reasons. Some thought the writing didn't come close to meeting the standard. Some found very few laughs. But almost all commented on what I thought would be the issue: it's a patronizing and confusing look at "self-beauty". I only wish I'd gone more with my gut on the score.
Meanwhile, it wasn't hard to see Super Troopers 2 (Predicted: 27% Actual: 35%) being anything but a critical dud. The original wasn't warmly received by this crowd, and the sequel didn't fare any better. I very much doubt the filmmakers care much about this score (or at least less than others would) simply because this one is made for the core, cult-like fans of Super Troopers. The Tomatometer score isn't a win, but I suspect fans of the original will very gravitate towards the follow-up anyway.
And finally, Traffik (Predicted: 28% Actual: 24%) sucked, and it didn't take a person who's been doing this for nearly a decade to see coming. A thriller in the woods with a gang of ruffians running amok all over the innocents just looking for a little Airbnb getaway needs to fire on every single cylinder to even score above the 50% mark. This one didn't even come close.
Next time around we've got Bad Samaritan, Overboard, and Tully. It's gonna be a Rotten Week!
Your Daily Blend of Entertainment News
Doug began writing for CinemaBlend back when Terminator: The Sarah Connor Chronicles actually existed. Since then he's been writing This Rotten Week, predicting RottenTomatoes scores for movies you don't even remember for the better part of a decade. He can be found re-watching The Office for the infinity time.