Why Deadpool 2 Is Winning The Summer Movie Marketing Game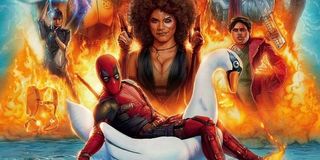 With Deadpool 2 only a mere two weeks away, the summer movie season is about to heat up to full steam. That, in part, is due to some serious legwork that the folks in Fox's marketing department have been doing in order to push the upcoming sequel to one of 2016's record breaking hits. But to have Avengers: Infinity War wiping the floor with the competition, just weeks before its sequel's debut, the stakes are undoubtedly raised. The best part about that is Deadpool 2 is rising to meet them, thanks to its killer marketing campaign.
After a campaign that's given us everything from a sassy pre-movie short in front of Logan to a teaser trailer hidden in a Bob Ross parody, Deadpool 2 seemed on track to make itself a sequel that, at the very least, matched its predecessor in style and humor. As time went on, though, the marketing got nuttier, and it did so in some of the funniest ways. Be it a Good Housekeeping spread, those Trolli gummy hands that recently hit shelves, and above all else, a Celine Dion single and music video, Deadpool 2 is slaying the competition with its sales driven prowess. Which would lead even the most breathless Wade Wilson fan to ask, under their breath, "How the fuck do they do it?"
Frankly, the key to Deadpool 2's marketing is the same piece of advice that high powered operators like to give some of their client's press handlers: they're letting Deadpool be Deadpool. Rather than play it safe with just the run-of-the-mill promotions that the Fox/Marvel's brainchild began with, they're dipping into some interesting tricks that used to be handy back in the 1980s and 1990s era of film marketing. You have to admit, when your character dances in heels as Celine belts out the film's uber-serious ballad, "Ashes," and when they make fun of their ability to regenerate their own hands with a creepy gummy candy, it feels like the days when Freddy Krueger had a cereal and Jurassic Park doled out Pogs. That sort of nostalgia draws in audience members that are all about it, in addition to people who can laugh at how much those practices ridicule such measures in the first place. Seriously, watch the video, and tell us it doesn't take you back to the days of Aerosmith singing underneath a gigantic space shuttle.
Though the Deadpool 2 marketing strategy isn't just to bring back the past in a bid for post-modern laughs. As a matter of fact, there's another weapon that the David Leitch directed follow-up has up its sleeve, and his name is Peter. The non-superpowered member of DP's X-Force, the character played by Catastrophe's Rob Delaney is a sort of deadpanned straight man that sticks out like a sore thumb among a team that has mutant abilities out the wazoo. His earnest nature, and the fact that he was brought onto the team merely by "seeing the ad" give the film another catchphrase, yet another character to center posters around, and a new Twitter feed for us all to follow. Put all of the steps above together, and what do you get? A memorable experience that keeps hungry fans fed until the main course is unveiled in a little over a week.
Of course, some fans will be seeing the film a little earlier, as fan screenings will be dropping all over pretty soon. That's just the cherry on the top of the Deadpool 2 marketing sundae, as Fox is assuredly hoping to score the biggest endorsement deal that the would-be franchise bearer could get: very strong word of mouth from already pleased fans. We're entering the final stages of this marketing campaign's madness, and if this extremely amusing show so far has taught us anything, it's that Deadpool 2 may have saved its craziest, most memorable stunts for last -- and we're all in on whatever comes next.
Deadpool 2 hits theaters on May 18th, but if you're looking for more on the latest film "from the studio that killed Wolverine" as well as "brought you 27 Dresses and The Devil Wears Prada," you can head over to our official preview page and gorge yourself on DP's finest nuggets of news.
Your Daily Blend of Entertainment News
Senior Movies Contributor
CinemaBlend's James Bond (expert). Also versed in Large Scale Aggressors, time travel, and Guillermo del Toro. He fights for The User.