Where You Can Watch Star Wars: The Last Jedi Streaming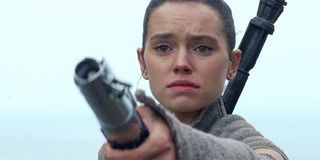 The nice thing about streaming is that it gives subscribers access to thousands of pieces of content that are just a click away. The bad thing about streaming is that subscribers are very much at the whims of what streaming companies want to purchase the rights to, and sometimes big movies can be difficult to keep track of. Such is the case with Star Wars: The Last Jedi. While the movie has been available on Blu-ray, DVD and Digital since March, it hasn't been available on any of the major streaming sites -- e.g. Netflix, Amazon and Hulu. However, all of that is about to change, as Star Wars: The Last Jedi is heading to Netflix in June.
It would be awesome if Netflix had been able to time the release of Star Wars: The Last Jedi onto its streaming service the same weekend as Solo: A Star Wars Story came out, as we could have all made it a big Star Wars weekend at home and at the theater. Unfortunately that won't end up being the case. The movie won't hit Netflix in early June, either, and fans will have to wait until June 26th to watch the film on the subscription streaming service. We'd be remiss if we didn't repeat that it can be rented or purchased, now, but it's not quite the same thing as scrolling through a queue and seeing it pop out among Netflix's other options.
The news that Star Wars: The Last Jedi is coming to Netflix isn't a huge surprise. It was more of a case of "when" rather than "where." Years ago, Disney made a deal with Netflix to push out big Disney content on streaming through the popular subscription service. That deal will be coming to an end at the end of this year. Conveniently, 2019 will also be the year that Disney opens up its own original content streaming service. So, where will Disney's big screen content go? In the case of Star Wars movies, the new streaming service seems ideal, as Disney has already announced new Star Wars originals set to head straight to the streaming service.
Especially if the Disney-Fox deal goes through, some content will stream on Hulu, still. Disney will own about 60% of the interest in Hulu if Disney successfully purchases Fox. In addition, the new Disney streaming service won't feature R-rated content, and I'd assume Hulu would be a much better fit for that sort of stuff. Regardless, Fox still has a deal with HBO until 2022, so it could be quite a while before all of this gets worked out, and that's assuming Disney does make a deal with Fox.
As it stands, Star Wars: The Last Jedi has both fans and detractors, but a lot of people have seen the movie more than once. If you haven't, it might not be the worst idea in the world. And what better way to revisit a piece of content you may not have been super pumped about than when it is freely available on Netflix?
Take a look at what else is heading to Netflix in 2018 with our full schedule.
Your Daily Blend of Entertainment News
Reality TV fan with a pinch of Disney fairy dust thrown in. Theme park junkie. If you've created a rom-com I've probably watched it.
Your Daily Blend of Entertainment News
Thank you for signing up to CinemaBlend. You will receive a verification email shortly.
There was a problem. Please refresh the page and try again.