What Do You Think Of The Wonder Woman 1984 Title?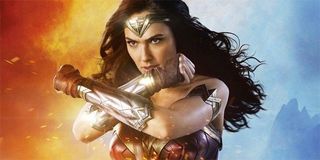 After months of waiting, DCEU fans have finally received some notable answers about Wonder Woman 2. Not only do we have confirmation that the highly-anticipated Wonder Woman sequel will take place in 1984, but Warner Bros. has gone one step further to actually start calling the film Wonder Woman 1984. It's an interesting title and one that will almost surely incite a variety of opinions from fans. With that in mind, let's dive in and flesh out how we all feel about Wonder Woman 1984.
Right off the bat, there's a clear benefit to using the date to title Wonder Woman 1984. The year puts the film's setting front and center, and it tells audiences the type of movie that they can expect, while also making it clear that the movie is a sequel. In a world where sequels have become insanely commonplace, doing this tells the audience, "We know you love Diana Prince, but you're about to witness her in an entirely new landscape that you haven't seen before."
Beyond that, a title like Wonder Woman 1984 helps carve out a unique identity for the sequel without giving away any major plot details that a traditional subtitle could spoil. For example, we love Captain America: The Winter Soldier, but telling the audience that the Marvel Cinematic Universe planned to introduce that particular character in 2014 pretty much gave away Bucky's return to seasoned fans of the comic book lore (and anyone who read up on what was coming in the movie). Titling the Wonder Woman sequel something like Wonder Woman: Paradise Lost or Wonder Woman: Spirit of Truth would've telegraphed specific plot points, but 1984 keeps things under wraps and maintains its secrecy.
It's also worth noting that this titling method has appeared in other forms of media recently. In the same way that Wonder Woman 2 has been reclassified as Wonder Woman 1984 because it takes place in 1984, so too is the next installment in the Fallout video game series called Fallout 76 because it takes place in Vault 76. Wonder Woman 1984 is definitely unique, but there's precedent for this methodology.
However, we should also take the time to consider the fact that some fans might not love the title. Wonder Woman 1984 perfectly lays out when Wonder Woman 2 will take place on the DC timeline, but we can already see the jokes that some naysayers will flood Twitter with in the coming days. Brace yourself, because I'm willing to bet that someone is going to make a crack about not seeing the previous 1983 movies after the original Wonder Woman debuted.
Then there's also a matter of considering how much audiences will respond to the shift in setting to 1984. One of the most substantial narrative wins experienced by the original Wonder Woman came with the World War One setting that invoked classic adventure stories like Raiders of the Lost Ark. Moving the sequel to 1984 pretty much guarantees a tonal shift (though we don't know what the shift will look like just yet), so we need to wait and see how fans respond to the shift being put front and center.
Wonder Woman 1984 will hit theaters next year on November 1, 2019. Make sure to let us know what you think of the title for Diana Prince's next adventure in the poll, below, and make sure to catch James Wan's Aquaman when it debuts in theaters on December 21, 2018!
This poll is no longer available.
Your Daily Blend of Entertainment News
Originally from Connecticut, Conner grew up in San Diego and graduated from Chapman University in 2014. He now lives in Los Angeles working in and around the entertainment industry and can mostly be found binging horror movies and chugging coffee.
Your Daily Blend of Entertainment News
Thank you for signing up to CinemaBlend. You will receive a verification email shortly.
There was a problem. Please refresh the page and try again.