This Rotten Week: Predicting Jurassic World: Fallen Kingdom Reviews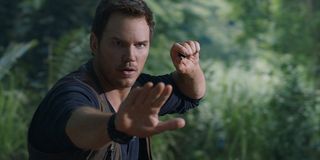 This summer has already seen the arrival of many major blockbusters, including Avengers: Infinity War, Deadpool 2, Solo: A Star Wars Story, and Incredibles 2, and now the planet is preparing for another round of dinosaur terror. Get ready for a return to dinosaur land in Jurassic World: Fallen Kingdom.
Just remember, I'm not reviewing these movies, but rather predicting where they'll end up on the Tomatometer. Let's take a look at This Rotten Week has to offer.
We were reintroduced to the Jurassic Park franchise a couple years back with Colin Trevorrow's Jurassic World (71%), an entertaining if unspectacular return to dinosaur land, this time with the theme park having turned into an active site. Unfortunately the success also led to the creation of out-of-control monsters, and as a result everything came crashing down. Now we have Jurassic World: Fallen Kingdom, which finds Owen (Chris Pratt) and Claire (Bryce Dallas Howard) heading back to the island and saving the surviving dinosaurs from a volcano eruption. Love when those stakes keep going up.
Director J.A. Bayona is new to the franchise after helming some smaller budget, but warmly received films like A Monster Calls (86%) and The Impossible (81%). Reviews for Jurassic World: Fallen Kingdom broke a couple of weeks ago thanks the the film's early international release, and they are generally positive - with the Tomatometer at 60 percent with 100 articles posted. There's enough of a sample size in to assume the score barely shifts over the course of the week, hence my prediction.
It was a very solid week for the Rotten Watch last time around, with two movies falling within range of my prediction, and the other just barely missing. Incredibles 2 (Predicted: 95% Actual: 93%) was a pretty easy call considering Pixar's continued dominance in the world of animation, and the fact that this was a follow up to a fantastic movie. It's score is just a hair lower than the 2004 original, which stands at 97 percent, but with those kinds of numbers its hard to see it as a disapontment.
Meanwhile, Tag (Predicted: 61% Actual: 56%) was nearly right on the nose. I thought the film looked cute and somewhat endearing without being something the critics would be over the moon about. That assessment proved correct, with a slight majority feeling like the absurdity and silliness behind a group of friends playing an infinite game of tag made for just enough laughs. Those who didn't like it just thought the aforementioned absurdity was a little too much.
Superfly (Predicted: 41% Actual: 54%) counts as a miss for me, but I came close to getting my prediction within range. The 54% rating pretty much sums up the critics' thoughts on this one, with only a few extreme takes and most feeling that it's a middle-of-the-road remake. Most agreed the acting performance of Trevor Jackson held up, but the story seems to be the biggest target and a drag on the final score.
Next time around we've got Sicario: Day of the Soldado and Uncle Drew. It's gonna be a Rotten Week!
Doug began writing for CinemaBlend back when Terminator: The Sarah Connor Chronicles actually existed. Since then he's been writing This Rotten Week, predicting RottenTomatoes scores for movies you don't even remember for the better part of a decade. He can be found re-watching The Office for the infinity time.
Your Daily Blend of Entertainment News
Thank you for signing up to CinemaBlend. You will receive a verification email shortly.
There was a problem. Please refresh the page and try again.