Top Gun 2: What We Know So Far About Maverick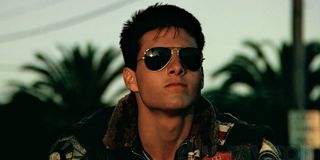 Do you feel the need for speed? We're willing to bet that you probably do, because there's a long-awaited sequel coming to theaters next year, and it has us squarely in the Danger Zone. That's right, folks. We're talking about Top Gun 2 a.k.a. Top Gun: Maverick. Many fans of the original film have spent the better part of the last three decades wondering if and when the sequel would ever happen, and we now know that Paramount is hard at work bringing us the long-awaited follow-up to the classic naval aviator movie that defined a generation and created a number of instant pop culture touchstones.
Cameras recently began rolling on the highly-anticipated sequel to Tony Scott's 1986 classic, and now it's time to look into the project and see what we know about it. With that in mind, and ahead of the film's July 12, 2019 release, we have put together a handy guide of everything you need to know about Top Gun: Maverick before it flies its way into theaters. We have several different points to get to, so let's start with the status of the film itself.
What Is The Top Gun: Maverick Release Date?
As noted earlier, Top Gun: Maverick is currently aiming for a summer release date. More specifically, the film will bow for audiences on July 12, 2019. This generally lines up with what we would've expected from this sequel, as the original debuted in May 1986, and the Top Gun brand is generally associated with the summer blockbuster season.
The definitive release date for Top Gun: Maverick is also noteworthy because of the sheer number of false starts that this project has experienced over the years. A Top Gun sequel is something that Tom Cruise has talked about for a very long time, but now that Top Gun: Maverick actually has a release date and is in the midst of production, it means that the movie is actually closer than ever to becoming a reality.
What Is The Top Gun: Maverick Rating?
With Top Gun: Maverick currently shooting in San Diego, California, we don't know what the film will be rated just yet. That said, given the fact that the first film was rated PG-13, it would make sense to assume that the sequel could get a similar rating when it goes in front of the MPAA. Even if the story is darker than the original, the odds of an R classification seem pretty slim. This is, probably, not going to be that type of movie.
What Is The Top Gun: Maverick Story?
Key details about the story of Top Gun: Maverick remain under wraps, but the clues that we do have suggest something that will honor, specifically, the movie that came before. The fact that the sequel is filming in San Diego seems to suggest that we will once again see Maverick at the Top Gun academy in Miramar, which is where he chose to become an instructor at the end of the first film.
Also worth noting is the fact that rumors of drone warfare playing a role in the sequel have been blown out of proportion. In fact, CinemaBlend asked director Joseph Kosinski about this in 2017, and he specifically pointed out that Top Gun is more about pilots than it is about planes, so sending Maverick up against a set of advanced drones would not make sense for the ethos of the franchise. So, don't worry; it looks like this won't be another Stealth.
Who Is Working On Top Gun: Maverick?
As we have already noted in this guide (and we will continue to note), Top Gun: Maverick is bringing Tom Cruise back as the titular pilot. However, he is obviously not the only key figure involved in the development and production of this movie. Specifically, the film has also enlisted the filmmaking talents of none other than Joseph Kosinski, who is perhaps best known for his work on Tron: Legacy, Oblivion (another collaboration with Tom Cruise), and 2017's Only the Brave. Kosinski has some big shoes to fill, as he's taking over the late, great Tony Scott.
In addition to Joseph Kosinski, Top Gun: Maverick also has another major player behind the scenes as well: Jerry Bruckheimer. A key figure on the first movie, Bruckheimer is returning to produce the project along with Tommy Harper and David Ellison.
What Planes Will Appear In Top Gun: Maverick?
If you have seen the original Top Gun, then you already know that the F-14 fighter jet is as much of a character as any human seen in the film. That said, the Navy does not use the F-14 anymore, which means that it's time for us to look into the details and see what other planes might show up.
With that in mind, when the first-look at Top Gun: Maverick dropped earlier this year, it looked as if Maverick was walking towards an F-18 sitting on a tarmac. That said, the controversial image does not explicitly indicate that Maverick is going to get into that specific plane, leading some to wonder if there's another jet waiting in the wings (pun very much intended). If he doesn't get into the F-18, then it's very possible that we could also see him hop into the cockpit of the F-35.
How Much Will Top Gun: Maverick Connect To Top Gun?
At this point, we still know very little about Top Gun: Maverick or how it will connect to the movie that preceded it. Given the fact that the film will once again focus on Tom Cruise as Pete Mitchell, it makes plenty of sense to assume that this will provide the character with another trial to continue his arc and development. Having said that, when we consider how complete the arc of the first movie is, we still have no idea if any definitive narrative threads will carry over, aside from a few other returning characters.
Tom Cruise As Pete "Maverick" Mitchell
There's really no getting around this one. You cannot have a movie called Top Gun: Maverick without Maverick himself. Tom Cruise is set to return to the Top Gun universe as the hotshot fighter pilot, and we could not be more excited. The movie star has become a bona fide action icon in the years since the original debuted, with films like Mission: Impossible -- Rogue Nation and Collateral proving his stunt and dramatic chops, so we're excited to see what Cruise can do when he gets back in the cockpit.
With Tom Cruise reprising one of his most iconic roles, we're left to wonder how Maverick has changed in the years since the original movie. The original Top Gun is a movie about Maverick's acceptance of the death of his father and the death of Goose, which leads to hum no longer being an outsider. Given the completion of that arc, the new film will have to do something entirely different.
Val Kilmer As Tom "Iceman" Kazansky
One of the key sources of conflict in the original Top Gun came in the form of the rivalry between Maverick and Iceman during their time at the Top Gun academy. As his name suggested, Maverick's personality led him to fly by the seat of his pants, while Iceman preferred a colder and more measured approach to aerial combat. They reconciled their differences by the end of the movie, and now we can look forward to the continuation of that story with Val Kilmer returning to his famous role.
This should come as no surprise, as the former Batman has lobbied to return for Top Gun: Maverick for quite a while. Having said that, while we do know that Maverick will get in a jet in the upcoming sequel, we don't know if Iceman will still be a flyboy as well.
Wrigley "Riot" Bradshaw
Aside from the fact that Top Gun: Maverick will bring Tom Cruise's Pete Mitchell back into action for another round of badass dogfights, the most evident connection between the sequel and the original that we have been able to glean is the fact that Top Gun: Maverick will apparently bring in the son of Goose (Anthony Edwards) to play a role in the film. The death of Maverick's best friend continues to stand out as one of the most emotionally wrenching moments in the original movie, and the presence of his next of kin (briefly seen as a child in the first film) means that Maverick will still have to deal with the fallout of the accident when Goose's son shows up in a new generation of pilots.
That said, this raises some interesting questions when we consider how Goose's family views Maverick. In the original Top Gun, Maverick and Goose's wife (Meg Ryan) maintain a good relationship after the death of the beloved navigator, and it's never explicitly stated that anyone harbors any ill will towards Pete Mitchell -- if anything, the fact that Maverick isn't punished weighs on him even more. With three decades separating Goose's death and the introduction of his son (the casting of which has yet to be announced), Top Gun: Maverick needs to explain if this new character is a source of comfort for Maverick or a ghost from his past.
Tom Skerritt As Mike "Viper" Metcalf?
Top Gun is a franchise that predicates a lot of its stories on the concept of fatherhood and mentorship. Maverick's entire personality is carved out of the devastating loss of his dad, and much of his time at the Top Gun academy in 1986 was spent under the tutelage of Tom Skerritt's Viper -- a man who knew the truth about the fate of Maverick's father in Vietnam. We have yet to learn if Viper is set to return alongside Maverick and Iceman in Top Gun: Maverick, but Skerritt is still an active performer, so it remains possible.
Of course, one obvious thing that we should point out is that Viper's role has primarily been bequeathed to Maverick at this point. With Riot arriving at the Top Gun academy to train, Pete Mitchell will have to deal with his demons and grapple with his knowledge about how Goose died. This could easily pave the way for Skerritt's return in a sage-like role, or it could mean that he won't return at all.
Kelly McGillis As Charlotte "Charlie" Blackwood?
Though the bulk of the emotional core in the first Top Gun focused on the relationship between Goose and Maverick, there was also a love story that has become just as famous. Specifically, we're referring to Kelly McGillis as Charlie -- a civilian analyst responsible for teaching the students at the Top Gun Academy in Miramar. Charlie was the one woman who could get Maverick to settle down, and Top Gun ended with the implication that they would go on to start a life together.
With all of that said, Kelly McGillis has definitely slowed down as an actress over the years. Moreover, Top Gun: Maverick is not listed as one of her current projects on IMDb. With the cameras now rolling, we will have to wait and see if she will eventually sign onto the project.
Michael Ironside As Rick "Jester" Heatherly
Every good military movie needs a drill instructor character to beat the heroes down emotionally and teach them how to handle a fight. Full Metal Jacket had the late R. Lee Ermey, and Top Gun had Michael Ironside as Jester. The ace fighter pilot served as the perfect counterpoint to Tom Skerritt's more reserved Viper, and his battles against Maverick and Goose continue to stand out as some of the best elements of the original movie.
That said, we still have no idea if Michael Ironside will return as Jester in Top Gun: Maverick. The 68-year-old Sam Fisher voice actor remains very active as a performer, but he has not signed on for the sequel yet. This absence could indicate that he simply has not agreed to join the project yet, or it could mean that Jester retired from active duty sometime between 1986 and 2019.
Kenny Loggins And "Danger Zone"
Of course, while there are numerous iconic story elements that make Top Gun the classic action film that it is, few aspects of the movie can compare to the beloved soundtrack. Numerous artists contributed songs to the original Top Gun soundtrack, but it's Kenny Loggins' "Danger Zone" that has handily become the go-to song associated with the film. Now, with Top Gun: Maverick in development, Kenny Loggins is going back to the drawing board to rework "Danger Zone" and update it for the modern era.
We don't have much information to work with yet, but what Loggins has shared about the project is enticing nonetheless. Specifically, the singer has confirmed that he's toying with the idea of recording a duet version of the song. It will undoubtedly be tough to match the sheer iconography of the first film, but we are intrigued to see where "Danger Zone" goes from here. Given director Joseph Kosinski's history of working with popular artists like Daft Punk, M83, and Dierks Bentley in his previous films, it's anyone's guess as to whom they will get.
Your Daily Blend of Entertainment News
Originally from Connecticut, Conner grew up in San Diego and graduated from Chapman University in 2014. He now lives in Los Angeles working in and around the entertainment industry and can mostly be found binging horror movies and chugging coffee.