We Have A Radical Idea For Sony's Spider-Man Movie Universe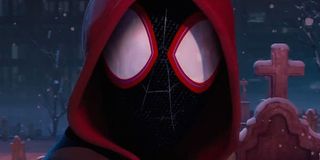 Sony is working on a group of connected films based on Spider-Man characters, beginning with Venom later this fall. The idea wasn't met with much enthusiasm, and things only got stranger with the announcement that an animated movie was in the works. Revealed later to be called Spider-Man: Into the Spider-Verse, Sony was keeping details on the animated feature close to its chest, only confirming that the movie would film the popular Miles Morales version of the character's origin story. While three different Spider-Man franchises happening at the same time seems excessive, fans seemed more open to seeing Miles on the big screen as more details began pouring out. Everything came to a head with the release of the official trailer earlier this month, which went on to become one of Sony's biggest viral hits. The fans have spoken, it seems, and if you are asking this writer, it's a much better idea for Sony to throw all their Spider-Man chips into their animated projects than the live-action ones.
To be fair, it's too early to really say that the live-action movies (Venom, etc.) won't be as successful as Into the Spider-Verse. We've only seen trailers so far, and just because a trailer is good or bad doesn't mean the final film will be as well. However, I think that the online reactions and conversations about Into the Spider-Verse compared to Venom says a lot about what people are really interested in and Sony might want to consider listening.
First of all, Into the Spider-Verse is brimming with talent. The movie comes from the minds of Phil Lord and Chris Miller, though only Lord wrote the screenplay. Bob Persichetti, Peter Ramsey, and Rodney Rothman are splitting directing duties, while Shameik Moore, Hailee Steinfeld, Mahershala Ali, Jake Johnson, Liev Schreiber, and Brian Tyree Henry fill out the extremely solid voice cast.
Not only does the movie have great creative talent, but they have clearly put in a ton of effort into making this movie. The animation is nothing short of beautiful and looks like no other animated movie out there. It looks as if a comic book actually came to life with everything from the bright colors to the thought bubbles appearing right there on the big screen. Into the Spider-Verse has way more going for it visually than one would have imagined and it feels like this was more than just a cash grab. We need way more movies like this that push animation creatively than we do something of a more standard fare.
In this case, the comparison to Venom is like night and day. The first teaser for Venom was not that great, and made it look like it was copy and pasted from literally any other B-movie about a gritty vigilante. The second trailer addressed that somewhat by showing off an awesome looking Venom. However, pretty much all the positive conversation revolves around how the character looks (and how much people want to bang him) and not about the actual quality of the movie.
While not a metric for success, the movies received different reactions based on trailer views. Into the Spider-Verse clocked 44 million views in just 24 hours, making it one of Sony's biggest viral hits. Venom, on the other hand. saw a more modest reaction and it's the latest trailer currently sits with 66 million views. It's clear the Into the Spider-Verse had a bit more positive buzz going for it, and while that's no promise of how it will be received in theaters, it may be earlier indication that Sony has a hit on its hands.
It also doesn't help much that it's unclear if the live-action movies can use Spider-Man, you know, that guy who makes all of these other characters work. Venom is one thing but movies about Black Cat, Silver Sable, and Morbius the Living Vampire don't exactly do much to get me licking my chops. I would rather see these characters in a movie with Spider-Man than just by themselves. Meanwhile, Into the Spider-Verse has absolutely no problem showing Spider-Man front and center. By making him a mentor figure, the film is doing something that moviegoers haven't seen before, making this take on Spidey feel fresher.
Plus, average audience members can easily accept two different Spider-Man universes if one of them is animated. The entirely different formats make it easier to tell that the two series have no relation to each other. If Spidey were to show up in Venom, people would just be confused if whether that was Tom Holland or not -- nevermind how the actually MCU fits into all this.
For what it's worth, Sony has already removed Silver and Black, the next film after Venom, from its release date. This was supposed to give the movie more time to nail down a script, but the fact that this is proving to be challenging is perhaps a sign that Sony is having a tough time nailing the formula. They've got a perfectly good animated movie sitting right in their laps with a built-in premise for future franchises. The multiverse concept allows them to introduce multiple different versions of the same character, creating exciting and fresh new takes. Hell, they could even have Venom show up if they wanted.
Matt has lived in New Jersey his entire life, but commutes every day to New York City. He graduated from Rowan University and loves Marvel, Nintendo, and going on long hikes and then greatly wishing he was back indoors. Matt has been covering the entertainment industry for over two years and will fight to his dying breath that Hulk and Black Widow make a good couple.
Your Daily Blend of Entertainment News
Thank you for signing up to CinemaBlend. You will receive a verification email shortly.
There was a problem. Please refresh the page and try again.