We Still Have Quite A While To Wait For That Avengers 4 Title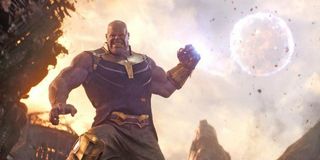 The Marvel Cinematic Universe is currently firing on all cylinders. Avengers: Infinity War broke box office records when it debuted in theaters two months ago, and early reactions for Ant-Man and The Wasp seem largely positive. Now one of the most highly-anticipated films on the Marvel release slate is the endlessly-enigmatic Avengers 4, and we won't even learn the real title of that film until the end of 2018. In a recent interview, Marvel Studios head Kevin Feige explained:
So, it looks like those of you who have been waiting to learn the name of the fourth Avengers movie will have to keep waiting even longer. In a recent interview with Collider, Kevin Feige addressed the wait for the reveal and noted that Marvel Studios likely wouldn't reveal what it's calling Avengers 4 until the end of the current year, months and months away. Given that fact, it also seems reasonable to assume that we probably won't see any footage from Avengers 4 until at least the end of the year as well -- which lines up with the November release of the Avengers: Infinity War's trailer.
This makes a certain degree of sense when we consider the release schedule for Marvel's films. Although Avengers 4 is one of the most highly-anticipated projects of the coming year, Captain Marvel is still first on deck for the 2019 release schedule. Kevin Feige and the folks at Marvel Studios are taking this process one step at a time, and we will realistically see footage from Captain Marvel long before we get the official name of the final Phase 3 film.
The wait to reveal the name of Avengers 4 also makes sense when we look at everything that we already know about the film. People associated with the development of the film have already noted that the real title of Avengers 4 is a significant spoiler for Avengers: Infinity War and Marvel has made no secret of the fact that it will bend over backward to protect its spoilers nowadays.
Of course, while we still apparently have quite a while until we learn the official title of Avengers 4, that has not stopped us from theorizing and hypothesizing about what the film could eventually be called. Our theories have ranged from the relatively straightforward (such as Avengers: Infinity Gauntlet) to some wilder guesses like New Avengers or Avengers: Secret Wars. At this point, it really could be anything, as we only have a few vital details to work with. These include the fact that the title of Avengers 4 was never uttered during the events of Avengers: Infinity War (seemingly ruling out Infinity Gauntlet as a contender), as well as the fact that The Russos think the title of Avengers 4 will scare us. Can 2018 please just come to an end already? We need to know!
Avengers: Infinity War is still in some theaters, and Ant-Man and The Wasp will debut next month on July 6. As for next year, Captain Marvel will premiere on March 8, 2019, and Avengers 4 will round out the bunch on May 3, 2019.
Originally from Connecticut, Conner grew up in San Diego and graduated from Chapman University in 2014. He now lives in Los Angeles working in and around the entertainment industry and can mostly be found binging horror movies and chugging coffee.
Your Daily Blend of Entertainment News
Thank you for signing up to CinemaBlend. You will receive a verification email shortly.
There was a problem. Please refresh the page and try again.