The Marvel Spin-Off We Need To See In The Future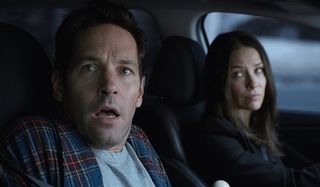 Warning: Spoilers for Ant-Man and The Wasp are in play. If you haven't seen the film yet, minimize this story into a Quantum Realm-friendly size, and re-enlarge after you've enjoyed the MCU's latest offering.
Peyton Reed's Ant-Man movies have given us the thrills we have come to expect from the Marvel Cinematic Universe, as well as the tie-ins that help keep the world moving in the 20 film-strong franchise. What we've also gotten is something most other Marvel Studios films treat as a side effect: amazing comedic characters who, given the opportunity, can shine just as brightly as any hero. The ensemble put together for Ant-Man and The Wasp sharpens this point especially fine, and it's inspired an idea for the next big Marvel Studios spin-off project. Allow me to pitch you on X-Con: The Series.
Ant-Man and The Wasp sees Scott Lang's heist crew, Luis (Michael Pena), Dave (Tip "T.I." Harris), and Curt (David Dastmalchian) working together and running a new security company called X-Con. Per usual, the gang gets involved in the larger action of the story, with their unique brands of humor mixing into a total package that entertains; however, in my idea, the spin-off concept would stay away from that. Instead X-Con would solely focus on the trio of ex-cons who have become security consultants, with a focus on developing characters and their humorous tendencies without having to worry about the typical MCU narrative.
Thanks to the events in Ant-Man and The Wasp, the X-Con crew is flush with recognition and operating capital, so they obviously should expand their ranks in order to make themselves a fully-fledged player in the security scene. We'd like to see more memorable characters be integrated into this potential comedy series, and three characters in particular deserve to be drafted into X-Con: The Series: Randall Park's Agent Jimmy Woo, Bobby Cannavale's Officer Jim Paxton, and Judy Greer's Maggie. Although we may need to wait for a while for this spinoff, as it is assuming the effects of Avengers: Infinity War are dealt with in Avengers 4.
All three actors are personalities that have been underutilized in their Marvel Cinematic Universe roles, so expanding Ant-Man's universe into a television show would help right a minor (albeit recurring) wrong that Marvel Studios has been committing with its tendency to hire incredible talent. With an extended bench of employees in X-Con's hypothetical ranks, we'd theoretically have a series that would work in a different way than ABC's Agents of S.H.I.E.L.D. The group of characters would be operating within the Marvel playground, only instead of serious, galactic threats, they'd have to deal with deterring low-level criminals and organized crime. It's an approach that should make things easier for newbies to jump on board, drawing in comedy fans who may not be totally clued into the MCU's history. After Powerless didn't really pan out, it would be nice to see a superhero comedy series work on TV.
The last (and possibly best) reason that X-Con should become a real thing is the fact that Disney is launching its own streaming service in the near future, and it's going to be hungry for content. Just as there's going to be original Star Wars content on the platform, a need for some solid Marvel Studios originals will hopefully end up being a focal point. Launching a new series with fan-favorite characters and properties is a smart tactic to sell people on subscribing to a new service. It's the same reason CBS put The Good Fight on its streaming service.
Of course, there are two very big issues that come into play, and we've already mentioned one of them. Naturally if X-Con: The Series is going to succeed, it needs to deal with the fallout of Infinity War, and most likely Avengers 4, seeing as this project would take some time to go into development. On top of that massive elephant in the room, there's still the issue of how Paul Rudd's Scott Lang would fit into the structure of X-Con: The Series, seeing as he's a part owner of the company, and a successful co-parent with both Maggie and Jim. As it turns out, both issues could work well together with a combination of timing and opportunity.
Depending on what happens in Avengers 4, there's a likelihood that Scott will still be running around as Ant-Man, fighting crime on the streets of San Francisco. So not only would this explain his absence for most of X-Con: The Series' day-to-day operations, it would also leave things open for him to pop in from time to time. Thinking about how Maggie and Jim will probably still be caring for Cassie, depending on what timeframe we're looking at post Avengers 4, and remembering that Scott is still a vital part of X-Con's operations, he kind of has to be there. It doesn't mean that Paul Rudd has to commit to a long term role in the series, though if by some miracle they could land Rudd's talents on a more regular basis, that would be icing on the cake, and a fun way to keep the Ant-Man franchise developing in the background.
With the proper creative minds attached, X-Con could successfully take the comedic heavy hitters from the Ant-Man movies, let them loose in their own playground on the fringe of the standard MCU adventures, and capture the magic these effective performers can generate for a sitcom. It could be a great exercise in expanding the MCU's funny bone, and provide more work for impressive side characters played by legitimate comedic talent. If this works for the Ant-Man and The Wasp crew, then this same approach could find itself replicated across genres and characters in other Marvel Studios films. If that's not a possibly enticing lure that could bring even more talent to the pool, then I don't know what is.
If you think I'm crazy, then take another look at Ant-Man and The Wasp, in theaters now, and tell me that this wouldn't work!
This poll is no longer available.
CinemaBlend's James Bond (expert). Also versed in Large Scale Aggressors, time travel, and Guillermo del Toro. He fights for The User.
Your Daily Blend of Entertainment News
Thank you for signing up to CinemaBlend. You will receive a verification email shortly.
There was a problem. Please refresh the page and try again.