Hotel Transylvania Box Office: Summer Vacation Soars, Skyscraper Stumbles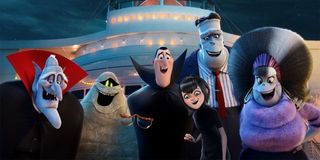 While not the flashiest franchise in the world, the Hotel Transylvania series of movies have been putting up solid box office numbers since 2012, and with the release of the third movie - Genndy Tartakovsky's Hotel Transylvania 3: Summer Vacation - they have established yet another winner. Sadly, though, it has come at the expense of Dwayne Johnson and his new action feature, Rawson Marshall Thurber's Skyscraper. Check out the full Top 10 below, and join me after for analysis!
All three of the Hotel Transylvania titles have managed to make between $40 and $50 million during their respective domestic opening weekends, and while Hotel Transylvania 3: Summer Vacation wasn't able to top the $48.5 million collected by Hotel Transylvania 2 in its first three days, it is now the franchise's second biggest debut success. And if history is anything to go on, Sony Pictures Animation will wind up being very happy with this release. Not only did both previous films wind up doing exceptionally well in the long run here at home, bringing in between $148 million and $170 million, but the franchise numbers have actually always done better overseas (Hotel Transylvania - $358.4 million; Hotel Transylvania 2 - $473.2 million).
Admittedly the second sequel is swimming in different waters, as its predecessors were both hit theaters in September, but it should still wind up making a whole lot of cash. It may not stay in the top spot for next weekend, and there are some big titles on the way, but still it should be able to linger around the Top 10 for a while. The big upcoming release that may give it some trouble and steal some attention is Aaron Horvath and Peter Rida Michail's Teen Titans! Go To The Movies, but that's not happening until July 27th.
This was definitely a good weekend for Hotel Transylvania 3: Summer Vacation, but it's harder to say super nice things about the performance of the next two movies on the list above. Peyton Reed's Ant-Man And The Wasp opened super well last week, beating out it's predecessor by about $20 million, but its numbers fell sharply with the introduction of two big competitors. It was still able to hold on to second place, fortunately, but a 62 percent second week drop isn't something that anyone wants to see. It will surely still wind up making plenty of money for the folks at Marvel Studios and Disney, particularly with the international release delayed as to avoid the distraction of the World Cup, but it's not exactly putting up Black Panther or Avengers: Infinity War numbers.
But while Ant-Man And The Wasp at least had the boon of a good start, the same can't be said for Skyscraper. Dwayne Johnson was having a kick ass 2018 for the first half of the year, with Jumanji: Welcome To The Jungle dominating all through January and Rampage opening above expectations, but his riff on both Die Hard and The Towering Inferno apparently didn't get audiences very interested. Getting above $25 million kind of looks nice, until you realize that the film was made with a reported budget of $125 million before marketing. It's going to be hard for this one to make its money back domestically. It fortunately has the worldwide market to support it, as foreign markets have already contributed $40.4 million to the overall total - but it also must be a bit of an ego-bruiser for the star.
I'll also throw some attention to the numbers posted by Boots Riley's Sorry To Bother You, which expanded into nearly 800 more theaters this weekend after a very successful limited release last week. And despite being in less than a 1000 theaters, the film still managed to climb nine spots and grab #7 on the Top 10. The release has been hyped since the movie made a huge splash at the Sundance Film Festival in January, and even though its not really available everywhere, it is still getting attention and selling tickets. Making $5.3 million might not look amazing next to giant blockbusters, but it's a solid start for the low-budget indie.
The status of the box office is a bit strange at the moment, but this week we will have Stephen Susco's Unfriended: Dark Web, Antoine Fuqua's The Equalizer 2, and Ol Parker's Mamma Mia: Here We Go Again! to shake things up. Be sure to come back next Sunday to see how things change!
NJ native who calls LA home; lives in a Dreamatorium. A decade-plus CinemaBlend veteran; endlessly enthusiastic about the career he's dreamt of since seventh grade.
Your Daily Blend of Entertainment News
Thank you for signing up to CinemaBlend. You will receive a verification email shortly.
There was a problem. Please refresh the page and try again.