It's Time We All Stop Hating On John Woo's Mission: Impossible 2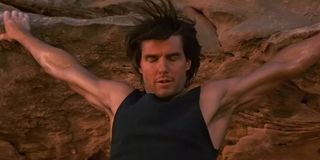 We're closing in on the official release date for Mission: Impossible -- Fallout, and many fans who have already had a chance to see the movie are hailing it as one of the franchise's best installments yet. What Tom Cruise has managed to do with this series is nothing less than impressive, but with so many fans praising the latest film, now feels like a good time to look back and re-assess Mission: Impossible 2.
The reason for this is simple: many contend that it's the worst of the franchise. However, while it certainly has its flaws, I think it's time to stop hating on John Woo's action hit and hone in on all of the reasons why it's actually better than some of us remember. With that in mind, let's kick things off by focusing on the sheer strength of the film's action.
The Gunplay And Fights Hold Up
Right off the bat, we need to address the fact that Mission: Impossible 2 arguably works best when John Woo is allowed to do what John Woo does best: direct stellar action. Mission: Impossible 2 is one of the more violent entries in the series, and Woo's knack for filming great gunfights and hand-to-hand fight scenes shines through in many of the sequel's best moments. Between the showstopper shootout in the lab at the top of a high-rise, the motorcycle chase through the outskirts of Sydney, and the climactic fight between Ethan Hunt and Sean Ambrose, Mission: Impossible 2's reputation for adrenaline-pumping action sequences is hard to argue against. Sure, it's not as narratively complex as its predecessor, but man, does it deliver on spectacle.
It Set The Franchise's Stuntwork Standard
There is no denying that the Langley break-in scene and the train sequence from the original Mission: Impossible are nothing less than extraordinary. That said, it wasn't until the release of Mission: Impossible 2 that audiences got a real taste of the kind of danger that Tom Cruise was willing to put himself through for the sake of this franchise. In fact, the very first scene featuring Ethan Hunt is a now-iconic sequence of him scaling the cliffs of Dead Horse Point in Utah, which Cruise famously did with minimal safety equipment to aid him. Putting all of that into perspective, it's easy to see how Mission: Impossible 2 largely paved the way for even more impressive stunt scenes like the Burj Khalifa scene in Ghost Protocol and the plane stunt in Rogue Nation.
Click Here to Buy Tickets for Mission: Impossible - Fallout on Fandango!
It Established A Tradition Of Strong Women
Though Emmanuelle Béart's Claire played a significant role in the original Mission: Impossible as an ally and confidant for Ethan Hunt, much of that felt undercut by the fact that she ultimately betrayed our hero by the time the film ended. On the other hand, Mission: Impossible 2 offered up a strong and reliable female protagonist in the form of Thandie Newtons Nyah Hall, and that established a tradition that would continue with Michelle Monaghan's Julia, Paula Patton's Jane, and Rebecca Ferguson's Ilsa (to name just a few). The series has consistently allowed the female IMF agents to stand shoulder to shoulder with Ethan since the events of the second film, and that's a tradition worth looking back on and appreciating, as not every action franchise has managed to do that over the years.
It (Mostly) Ditched Nostalgia
One of the most fundamental distinctions between the original Mission: Impossible movie and the films that followed is the fact that the initial installment in the series feels like a nostalgic continuation of the original TV series of the same name. From the grounded(ish) nature of the mission to the noir atmosphere and the very presence of Jim Phelps, the series started as a love letter to a bygone era of pop culture spycraft. That changed in a significant way with the release of Mission: Impossible 2, as John Woo's updated version of Alfred Hitchcock's Notorious catapulted the series to a post-millennial style and positioned it as a potentially indefinite blockbuster series that could embrace the modern world and the tones that younger audiences want from their big-budget action films.
Hans Zimmer's Score Is Great
Look, there is no getting around the fact that Mission: Impossible 2 has a weak soundtrack. Though artists like Metallica, Rob Zombie, and Godsmack all have their claims to fame (though we can't say the same for Limp Bizkit) in the world of hard rock, their presence on the soundtrack for a spy movie seems odd. Nevertheless, the score of Mission: Impossible 2 more than makes up for that shortcoming by allowing Hans Zimmer to cut loose and create something far more bombastic and epic than anything heard in the original. Future Mission: Impossible movies would veer closer to the classic theme in the creation of their scores, but Zimmer's booming orchestral touch on the franchise's first sequel remains instantly recognizable.
It Helped Define An Era
Though it's easy to look back at Mission: Impossible 2 through a post-Batman Begins and post-Casino Royale lens and scoff, it's worth remembering that the movie defined its era in a significant way. Bombastic and heightened action movies of this ilk were major cash cows back then, and Mission: Impossible 2 (along with films like The Matrix and Hard Boiled) actually stands out as a very strong example of the stylized action that audiences responded to during that period. Moreover, the film was a global hit, earning almost $547 million at the worldwide box office and garnering mostly positive reviews from renowned film critics like Roger Ebert at the time of its release.
Your Daily Blend of Entertainment News
Originally from Connecticut, Conner grew up in San Diego and graduated from Chapman University in 2014. He now lives in Los Angeles working in and around the entertainment industry and can mostly be found binging horror movies and chugging coffee.