How Geoff Johns Appears to Be Influencing The DCEU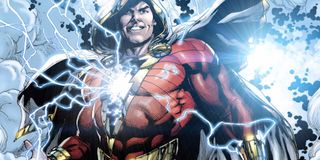 Warner Bros. had ample room to stretch its legs at San Diego Comic-Con and the studio took full advantage by showing off the next big DC films. In addition to an appearance from Wonder Woman 1984, DC debuted the first trailers for both Aquaman and Shazam!, two movies that are, in part, embracing a lighter and more fun direction for the DCEU. Both of the trailers have been well received by fans, but comic book fans will notice that they have something in common: the work of Geoff Johns, which is a really good thing because Johns played a big hand in revitalizing these characters.
For those unaware, Geoff Johns is a comic book writer with a long history with DC, having written memorable stories for Green Lantern, Justice League, The Flash, and Superman to only name a small handful. He penned some of the biggest stories from the publisher over the last few decades. Johns developed a reputation for mining gold from B-list characters, something that can be seen on display in his comic series for Shazam and Aquaman, which are clear inspirations for their theatrical showcases.
Shazam and Aquaman, depending on who you ask, are not the coolest superheroes in the world. One has a reputation for being lame and ridiculous (riding dolphins didn't help) while mainstream audiences have barely heard of the other. The two faced a real uphill battle, but Johns understands the core values of DC characters and is able to draw that out in exciting ways while building new mythology around them. It seems like the movies are drawing plenty from Johns's work, which is great because these two had great stories under Johns.
After DC Comics rebooted their entire comic book universe with new continuity in the New 52, Johns played a huge part in shaping the aftermath. Of the many series he wrote, he spearheaded an Aquaman relaunch and a Shazam mini-series, both of which set out to embolden the characters and make them major players in the DC world moving forward.
In the case of Aquaman, Johns used the real world view that the hero is nothing to take seriously. In this series, Aquaman has to fight for recognition from a public that doesn't take him seriously, seeing him as nothing more than a joke. Yeah, Aquaman commands fish, but he's also a member of the Justice League and the king of the largest nation in the world. The guy deserves respect, and Johns addressed that by embracing the duality of the character as a man of both the sea and the land.
The Aquaman movie is making Aquaman cool in a different way with Jason Momoa, whiskey, and leather pants. All that is fine, but the movie also takes a lot from Geoff Johns' run. The plot follows Arthur Curry as he must come to terms with his rightful place as the king of Atlantis (a major theme at the beginning of Johns's run), confront his half-brother Orm, and smooth tensions between Atlantis and the surface world. Not only that, but the movie is also embracing the Seven Kingdoms, an idea that Johns created about how Atlantis is just one of six other undersea kingdoms. One of these kingdoms is the Trench, filled with man-eating fish monsters that reside deep below. They can be briefly seen in the movie trailer.
It says a lot that so many elements that Johns introduced are in the Aquaman movie, but the movie still follows its own path. Shazam!, meanwhile, takes a huge chunk of Johns' comic mini-series and brings it to the big screen. Based on the trailer, the movie seems to follow the basic plotline of Johns's run; Troubled orphan Billy Batson begins living with a new foster family, defends his new foster brother from bullies, escapes a pummeling on a subway car, and is magically gifted powers from a strange wizard. Shazam and Freddy Freeman goofing off and trying to abuse Billy's sudden adulthood (in the comics, they try to buy beer, but it looks like it'll be soda in the movie) is another memorable moment.
It's also been rumored that Shazam! will feature the Shazam Family, which is the result of Billy sharing his powers with his fosters brothers and sisters, giving them their own adult alter egos. Geoff Johns technically didn't create this concept, but he doubled down on it and introduced mostly new characters. Family has always been a big part of Shazam, and while the character is goofy and fun, he's got a nuggety center that Johns brought forward.
It's likely that Shazam! and Aquaman aren't direct adaptations of any one story, but Geoff Johns' work seems to have been used to help form the basis for what fans will see on screen. That's A-Okay in my book. Johns knows these characters like the back of is hand and the fact that the DCEU seems to be adapting more of his work indicates that they are trying to create fun, character-focused stories.
Your Daily Blend of Entertainment News
Matt has lived in New Jersey his entire life, but commutes every day to New York City. He graduated from Rowan University and loves Marvel, Nintendo, and going on long hikes and then greatly wishing he was back indoors. Matt has been covering the entertainment industry for over two years and will fight to his dying breath that Hulk and Black Widow make a good couple.