Why Star Wars: Episode IX Ending The Skywalker Saga Is A Good Idea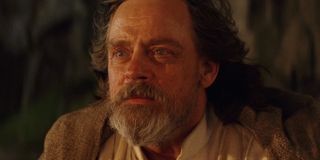 When Disney purchased Lucasfilm from George Lucas, it was to be expected that the studio had big plans for the Star Wars franchise. Sure enough, in addition to announcing a new trilogy, the Disney-owned Lucasfilm started releasing standalone Star Wars movies, and there are more cinematic adventures set in a galaxy far, far away planned for the next decade. But the official casting announcement for Episode IX last week also came the revelation that the movie will mark the final chapter of the Skywalker saga. Since A New Hope came out in 1977, we've been following along with this family in nearly every movie, and once Episode IX reaches theaters, their story will be over.
On the one hand, imagining the Star Wars franchise without any Skywalker-centric stories is difficult. On the other hand, now is the right time for Lucasfilm to say goodbye to the Force-sensitive family and move onto to the next phase of the Star Wars universe, and we've gathered together the main reasons why it's a good idea Episode IX is concluding this era.
It Was Always Supposed To End At Episode IX
George Lucas went back and forth on the idea of releasing a sequel Star Wars trilogy set after Return of the Jedi, and as we all know, eventually those plans fell by the wayside so he could make the prequel trilogy. But even if Lucas had returned to the Star Wars franchise and made his versions of Episode VII, VIII and IX like he was thinking of doing before the Disney purchase, there was never any intention of taking the main saga into the double digits. Sure there could have ended up being a separate film released here and there, but this nine-part saga effectively gave audiences a beginning, middle and end. Disney ultimately didn't use the story treatments and concepts that Lucas came up with, but evidently the company also feels it's necessary to wrap things up on the Skywalker side of things. Better to make a planned exit than outstay your welcome.
The Skywalker Lineage May Be Ending Soon
In the Star Wars Expanded Universe, the Skywalker lineage stretched on to the point that we met Luke Skywalker's great-grandson Cade Skywalker, star of the Legacy comic book series. In the official canon, however, this lineage may soon be ending. Contrary to fan speculation, Rey is not a Skywalker, and as far as we know, Luke didn't have any children in the three decades between Return of the Jedi and The Force Awakens. That leaves Leia and Ben, a.k.a. Kylo Ren, as the only Skywalkers left. Although Leia will be appear in Episode IX thanks to unused footage of Carrie Fisher from Episode IX, it remains to be seen if she'll survive or perish in the upcoming movie. As for Kylo, there might still be a small chance that he could find his way back to the light, but the events of The Last Jedi don't make a good case for him. Assuming he stays a servant of the dark side in Episode IX, then if Rey strikes him down in battle, that's it. You can't keep telling a Skywalker saga if there won't be any future generations of Skywalkers.
It's Time To Explore Other Areas In A Galaxy Far, Far Away
It'd be foolish to think that the Star Wars franchise as a whole won't ever be most associated with the Skywalker saga, but following the release of Episode IX, a new era will begin. The Last Jedi director Rian Johnson is working on a new trilogy and Game of Thrones showrunners David Benioff and D.B Weiss are working on their own series of films. We already knew that these movies would be unconnected to the Skywalkers, but now that Episode IX is confirmed to wrap up this family's story, Lucasfilm is making it clear that the future of Star Wars is exploring other areas in a galaxy far, far away. In this way, the franchise is shifting more into a cinematic universe, although I doubt we'll ever see all future Star Wars movies closely connected to one another akin to the entries of the MCU or DCEU. As Rogue One showed us, the Skywalkers and those connected to them aren't the only ones who lead exciting lives, and now we can see more of these other adventures. Throw in the live action Star Wars TV series that will air on the Disney streaming service, and the post-2019 Star Wars landscape is going to look a lot different.
We Could Still Reunite With Familiar Faces Later On
Just so it's perfectly clear, the Rian Johnson trilogy and the David Benioff/D.B. Weiss Star Wars film series will star characters we haven't seen before, thus adding distance from the Skywalker saga. That being said, just because the saga is wrapping up doesn't mean we won't ever see any familiar faces again. First off, even though the spinoff movies are reportedly on hold following Solo's underwhelming box office performance, that might be lifted at some point. if that happens, then we might see standalone movies centered on folks like Obi-Wan Kenobi, Boba Fett, etc, just like what's been rumored for a while. But looking to the "main" movies, you never know what the future holds. After all, Mark Hamill, Carrie Fisher and Harrison Ford returned for the sequel trilogy over three decades after Return of the Jedi. Maybe in a decade or even longer, Lucasfilm will decide to revisit Rey, Finn, Poe Dameron and others when they're older and more experienced. Even if the Skywalker saga is ending, the door could remain cracked open for those who were around the family to pop back in.
This poll is no longer available.
Your Daily Blend of Entertainment News
Connoisseur of Marvel, DC, Star Wars, John Wick, MonsterVerse and Doctor Who lore. He's aware he looks like Harry Potter and Clark Kent.