5 Movies We've Already Seen That Have A Shot At A Best Picture Nomination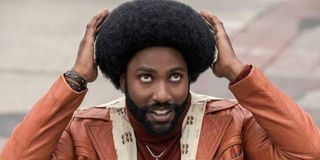 It's no exaggeration to say that there was a major shakeup at the Academy Awards recently, with the revelation that a Popular category would likely address a number of blockbusters that will not contend for Best Picture, despite the fact that they might be critically acclaimed as well as commercially adored. While we still have no clue how this category will shape up -- or even what the criteria for it will be -- there are five films that we have seen this year that we think qualify for Best Picture consideration, with or without the existence of a Popular category.
That's not to say that we will see these five in the Best Picture category next year. But when you scan the crop of 2018 films, knowing that there's still a ton of exciting films still to drop, these are the five that look to have the best shots at an Oscar nomination in the most prestigious category
Black Panther
Not the best film released by Marvel Studios in 2018 (that distinction belongs to Avengers: Infinity War) but the most important film. From a cultural standpoint. From a financial standpoint. And from a creative standpoint. Black Panther certainly checks a lot of the boxes that the Academy looks for before it stoops to honor a blockbuster, and everything from the film's incredible box office success (it outgrossed Infinity War domestically, but not worldwide) to its achievement in diversity both in front of and behind the camera make it a movie that we easily could see the Oscars putting on a pedestal and honoring with a Best Picture nod.
BlacKkKlansman
How long has it been since Spike Lee has had a film in the national conversation? Too long, but BlacKkKlansman has the controversial and opinionated director right back in the mix with a stylish, thought-provoking and incendiary look at race in America circa the 1970s. Yes, the film benefits from Lee's unflinching approach to honesty and his give-no-fucks attitude toward being insensitive. But this movie -- which finds two cops working together to infiltrate David Duke's KKK -- might also be remembered for putting a spotlight on the extremely talented John David Washington by year's end, as well. And that's alright with us.
Eighth Grade
This one's potentially small, by Oscar's standards, but that doesn't make Bo Burnham's coming-of-age dramedy any less worthy of recognition in the Academy's Best Picture field. Though the genre cranks out these types of movies on the regular, it's rare to see a movie as in tune with its audience as Eighth Grade, with Elsie Fisher delivering a blisteringly beautiful turn as an awkward middle-schooler trying her best to shed a cocoon and turn into a social butterfly. Think Juno for the YouTube era, and see why this movie can go far with the right push from A24. Gucci!
The Rider
The Rider might compete against Lean On Pete for "most emotional horse movie" of 2018, but something tells me the sentimental pull of Chloe Zhao's second feature could power it into the race. This is a longshot, but the reviews for The Rider are overwhelmingly positive, and if enough Academy members pop the screener into the DVD player during nomination season, they just might find their way toward embracing this beautiful story... right after they stop ugly-sobbing.
Won't You Be My Neighbor?
This year has been unnaturally strong for documentary films, and while it's rare for those movies to break out of their own category and into Best Picture (same goes for animation), the one that has the best shot this year would be Won't You Be My Neighbor? Morgan Neville's doc captures the life work of the gentile and supportive Fred Rogers, whose television show shaped the childhoods of millions of young viewers on Mr. Rogers' Neighborhood. The doc is a wonderful reminder of the power of kindness, and that impact could carry this doc all the way through what's normally a competitive and back-biting awards season.
Movie junkie. Infatuated with comic-book films. ReelBlend cohost. Resident dad. Extroverted introvert. Wants to see the Snyder Cut. Managing Director at CinemaBlend.