Who We Think Woody Harrelson Will Play In Venom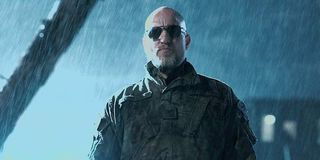 The general consensus since Spider-Man 3 dropped 11 years ago is that the movie's depiction of Venom, which marked the character's first live action appearance, was sorely lacking. But now the longtime Marvel villain-turned-anti-hero is finally getting a chance at theatrical redemption in his own movie, only this time, Spider-Man won't play any role in Venom's origin story (though perhaps the two could still cross paths in this continuity someday). Instead, the Venom movie is pulling from the smaller, but still meaty, mythology that that the eponymous character has carved out for himself, particularly the Lethal Protector and the Planet of the Symbiotes storylines. So far most of Venom's cast has been identified, but there are still a couple actors whose roles are being kept secret, with Woody Harrelson arguably being the biggest question mark. However, thanks to rumors and reports that have trickled in this year, as well as looking at Venom's history, we think there's a good chance that Harrelson is playing Cletus Kasady, a.k.a. Carnage.
As longtime comic book fans know, while Venom is one of Spider-Man's most dangerous adversaries, he at least has a own moral code, something that Carnage completely lacks. Having adopted the mindset that life was meaningless and that it was best to spread chaos, Cletus Kasady became a serial killer, which eventually led to him becoming cellmates with Eddie Brock, the original and most frequent host of the Venom symbiote. When said symbiote snuck into prison to break Eddie out, it also left behind an offspring, and this offspring bonded with Cletus, transforming him into Carnage. Like Venom, Carnage shares the same abilities Spider-Man has, but he's also much stronger than Venom, with part of this enhancement due to Cletus' psychopathic philosophies. Carnage definitely has a spot reserved in Spider-Man's rogues gallery, but he and Venom have also clashed numerous times over the years, hence why it seems likely that the Venom movie is laying the groundwork for his introduction.
Carnage was first reported to be appearing in Venom in June 2017, and while it was initially rumored that Rogue One actor Riz Ahmed was playing the character, it's since been revealed that Ahmed is actually playing Carlton Drake, head of the Life Foundation and host of the Riot symbiote. Venom will include other antagonistic symbiotes connected to the Life Foundation, so the main story has its bad guys covered. As far as Woody Harrelson goes, he was first said to be joining Venom last December, and then in April, the rumor broke that the actor was playing Cletus Kasady. The following month, Harrelson stated that he's in "a little fraction" of Venom, but he'd be back for "the next one," so we should't expect him to have a lot of screen time. Nevertheless, his comment suggests that he'll have a prominent role in Venom 2, and Carnage would be a great role for him.
Many Spider-Man fans have clamored for years for Carnage to appear in one of the Web-Slinger's movies, but it's doubtful that's going to happen in the Marvel Cinematic Universe. With Venom on the board, a movie that director Ruben Fleischer says will be more violent, that's the best platform for Carnage to make his live action debut. Thanks to Woody Harrelson's profile increasing in recent years thanks to the Hunger Games movies, War for the Planet of the Apes and Solo: A Star Wars Story (to name a few), as well as his turns playing less-than-stable characters, he's more than qualified to fill Cletus Kasady's shoes. As for how Cletus could become Carnage in this continuity, a rumor back in February claimed that a scene towards the end of Venom sees Eddie Brock visiting San Quentin State Prison to see Cletus, who is under the care of Dr. Ashley Kafka. While there, part of Eddie's symbiote breaks free during Eddie's encounter with Cletus and starts making its way towards the latter, and then the scene cuts to black.
We're less than a month from finding out if this is true or not, but considering Carnage's popularity and that Venom doesn't have the biggest collection of villains, bringing Cletus Kasady into play is a good way to increase the stakes in Venom 2. We don't doubt the Life Foundation symbiotes in Venom are threatening, but when you have someone's whose already pure evil bonded with a symbiote, then things are only going to get worse. Sony wouldn't bring Woody Harrelson aboard Venom for just a minor role, so even though he's only cameoing in the movie, he has the star power to fully bring Cletus/Carnage to life if Venom 2 gets the green light.
Venom hits theaters on October 5, and don't forget to look through our 2018 release schedule to learn what other movies are arriving before the year is finished.
This poll is no longer available.
Your Daily Blend of Entertainment News
Connoisseur of Marvel, DC, Star Wars, John Wick, MonsterVerse and Doctor Who lore. He's aware he looks like Harry Potter and Clark Kent.