Why A Star Wars Slowdown Is Exactly What Disney Needs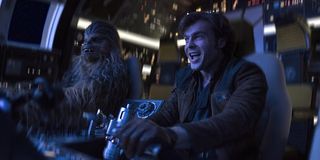 When Disney purchased Lucasfilm and announced the return of Star Wars back in 2012, fans could rejoice in knowing there may never again be a time without Star Wars. For a while after the purchase, decades between trilogies and years between films were a thing of the past. Between the Saga films and the spinoff anthology movies, there was a constant supply of Star Wars, enough to sate even the most voracious of fans. Plus, given Disney's success with its Marvel Cinematic Universe, it seemed inevitable that Star Wars would eventually move to a model of multiple films a year.
That was then.
Now Star Wars is pumping the brakes and dropping out of hyperspace with a lurch in the wake of Solo: A Star Wars Story. Bob Iger recently admitted that it was his mistake to push out too many Star Wars films too fast and that we can expect some slowdown from the franchise. He indicated that moving forward Disney would be more careful about the volume of how many Star Wars movies come out and the timing of when they arrive.
Now, this move could be seen by some as premature or an overreaction to Solo's performance. Regardless of whether timing is what felled Solo at the box office or if it was just one of numerous issues that did it in, the impetus to take a more restrained approach in the future is the right one. In fact, I think a Star Wars slowdown is exactly what Disney needs right now. Here's why:
There Will Still Be Plenty Of Star Wars On TV
Even if a slowdown means that we have to wait a little longer between movies, there will still be plenty of new Star Wars content for the avid fan to enjoy. Star Wars Rebels is over and a new animated series is coming to Disney Channel next month. Star Wars Resistance will tell stories in a time period we haven't seen explored yet, between the end of The Return of the Jedi and months before The Force Awakens. If that animated series skews a bit too young for you, no matter, that's not the only Star Wars TV series on the way. Star Wars: The Clone Wars is returning next year to finish up its run. Beyond that, Jon Favreau is working on a live-action series for Disney's upcoming streaming service. The wildly expensive series will be set 7 years after Return of the Jedi and will hopefully have the kind of high quality storytelling we've come to expect from prestige television. So despite any big screen slowdown, there will still be plenty of Star Wars content on TV in the years ahead to keep fans happy, to say nothing of the other in-canon materials like the novels and comics.
Absence Makes The Heart Grow Fonder
To be clear, we will never again experience the kind of frenzy that accompanied the return of Star Wars with The Force Awakens in 2015, that magical time before The Last Jedi when fans of the prequels and fans of the original trilogy came together as one in excitement for the return of their favorite franchise. Those who felt burned by the prequels were excited about Star Wars again and the sins of the past were forgiven. We'll never have a drought like that again but a slowdown in frequency of any kind will do a service to Star Wars. For those who didn't like The Last Jedi, time will theoretically allow their frustrations to ebb and their desire to see a new Star Wars movie grow. And the same will apply to any future movie that receives a divided reaction. I'm not saying that fans that hated a movie will come around on it, but passions die hard and even the Prequels have come to be appreciated more than they once were. A slowdown in the frequency of Star Wars films makes people miss them more and that makes them overlook past offenses to get excited again.
Star Wars Is Not Marvel
Like Marvel, Star Wars is an incredibly lucrative and popular property that falls under the Disney umbrella. Despite those similarities, Star Wars is not Marvel. Just because the MCU can do three movies a year, and probably more if Disney were so inclined, doesn't mean that's right for Star Wars. Just because there are no signs of superhero fatigue does not mean the same holds true for Star Wars. We don't know what the right number of Star Wars films a year should be and the answer may be fluid, depending on the films themselves. We'll never go back to once every three years but maybe somewhere between once every 8-12 months. A slowdown allows Disney to approach the timing and frequency of these movies with greater care to find the right balance to prevent audience fatigue. Also, Marvel may be the biggest cash cow at the moment, but Star Wars has always felt different, more special. The infrequency, the Christmas releases, the history, it all give Star Wars an intangible quality that no other franchise has. Disney should endeavor to maintain that as much as possible to preserve the Star Wars brand for years to come.
Time To Get Things Right
Since Star Wars returned under the Disney banner, nearly every film has been under the gun to make release dates, production problems be damned. Although there have been some delays, we now know that part of the reason that Solo was released in May, was to make Disney's current fiscal year. Maybe a December release and more time for reshoots and post-production to really make Solo the best film it could be wouldn't have made a difference and it still would have disappointed. Yet, the lesson here is still applicable. Business dictating art can be bad for business. Disney is a for-profit company and has obligations to its shareholders. Regardless, when those fiscal motivations ultimately harm the product and damage the brand, that's not good for anyone's bottom-line long term. A slowdown should give Disney time to get things right and ensure that each new Star Wars film is a quality product that lives up to the brand and fan expectations. If delays or longer periods between films are necessary so be it. Fans will forgive a long wait if a film is great, but when you put out a sub-par movie, that's forever.
This poll is no longer available.
Your Daily Blend of Entertainment News
Nick grew up in Maryland has degrees in Film Studies and Communications. His life goal is to walk the earth, meet people and get into adventures. He's also still looking for The Adventures of Pete and Pete season 3 on DVD if anyone has a lead.