Why Joaquin Phoenix's Joker Movie Is So Important For The DC Franchise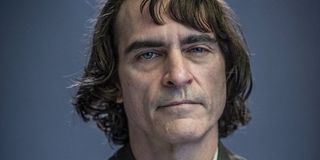 Cinematic universes are all the rage these days, particularly among superhero properties. Since 2013, Warner Bros has been competing on that from with the DC Extended Universe, but in addition to keeping that franchise going next year with Aquaman, Shazam! and Wonder Woman 1984, the studio is giving audiences a different kind of comic book movie. Directed by The Hangover's Todd Phillips, Joker is a standalone adaptation of the Clown Prince of Crime's origin story that doesn't appear to be concerned with honoring the source material. It's an unusual creative endeavor, to be sure, but if Joker ends up being successful, this may trigger Warner Bros to spend less time focusing on the DCEU and more time developing standalone, Elseworlds-like movies.
It's no secret that the DCEU has had a rough time ever since launching in 2013 with Man of Steel. While the franchise definitely has a passionate and vocal fanbase, aside from Wonder Woman, all of its entries so far have been met with mixed-to-negative reception critically, and Justice League ended up underwhelming commercially as well. Although the DCEU doesn't use "phases" like the MCU does, it's abundantly clear that Aquaman marks a new era for the franchise, emphasizing exploring different corners of this shared universe and not being as concerned with interconnectivity. But Joker is taking that a step further by completely distancing itself from the DCEU, leaving Joaquin Phoenix to take on Clown Prince of Crime duties while Jared Leto holds down the fort on the franchise side of things (and who may end up leading his own movie, too). And Joker might not be a one-time, experimental affair either, because it was also reported that this project would kick off a new production banner for one-off, non-DCEU movies in the vein of Elseworlds, the publishing imprint DC Comics classified many of its out-of-continuity stories for years. Thus far we haven't heard about any of these other kinds of movies, but Warner Bros may be waiting to see how Joker performs before green-lighting others like it.
Here's what we know about Joker so far: working with a $55 million budget, the movie is said to be a character study in the vein of Taxi Driver and The King of Comedy. This version of The Joker is originally a man named Arthur Fleck, who is reportedly a stand-up comedian that turns to a life of crime after being ostracized by society. This calls to mind The Joker's origin story depicted in The Killing Joke, although rather than gaining a clown-like appearance after falling into a vat of chemicals, Phoenix's Joker is following in the footsteps of Heath Ledger's Joker from The Dark Knight by wearing clown makeup. Joker also doesn't seem concerned with following the DC mythology closely, because the only other character from the comics who's been announced so far is Thomas Wayne, who's running for mayor and being depicted less sympathetically than usual. So yeah, this isn't your average comic book movie, and frankly, it's going to be a huge gamble for Warner Bros and DC.
But for the sake of argument, let's assume Joker knocks it out of the park rather than bombs. If Joker not only draws in critical acclaim, but also does well for itself commercially, then it's a good bet that Warner Bros is going to want to deliver more of these standalone DC movies. Along with harkening back to the days when most comic book movies weren't a part of shared universes, this would allow Warner Bros to tell DC stories that can stand on their own and not have any impact on the DCEU. Superman: Red Son, Batman Beyond, Kingdom Come, the sky's the limit on the kinds of adaptations we could see, or we could see more movies like Joker that put their own spin on characters not shown in the comics. This would also allow DC to further distinguish itself from Marvel Studios, which is fully invested in only telling stories set under one roof, i.e. the MCU.
So what would this creative detour mean for the DCEU? Well, not its erasure, that's for certain, as Warner Bros has too much riding on this franchise to abandon it entirely. That said, I could see the studio replicating its 2019 DC movies lineup in future years. Release two DCEU movies and set aside time for a non-DCEU movie to shine. It would be the best of both worlds: DCEU fans would still get content and those who aren't enthralled by the franchise can watch movies that aren't restricted by continuity. Not to mention that this would do wonders for cutting down on all the DCEU projects in development since there would be one less release date to work with per year. Again, this all depends on if Joker is successful, and right now, it's too soon to tell if that will be the case. But make no mistake, if the movies pays off, it's going to be a game changer for how Warner Bros handles future DC cinematic tales.
Joker will be released in theaters on October 4, 2019, so stay tuned to CinemaBlend for more updates. As for what the DCEU has coming down the pipeline, you can look through our handy guide for that information.
Your Daily Blend of Entertainment News
Connoisseur of Marvel, DC, Star Wars, John Wick, MonsterVerse and Doctor Who lore. He's aware he looks like Harry Potter and Clark Kent.