The 5 DCEU Movies Warner Bros Needs To Prioritize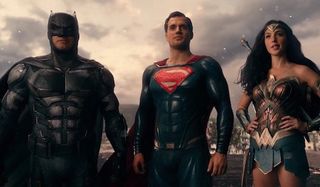 Say what you will about the DC Extended Universe, it has no problem with announcing projects. As things stand right now, and not including upcoming releases Aquaman, Shazam! and Wonder Woman 1984 (nor Joker, which isn't even set in the DCEU), this franchise has approximately 20 movies in some form of development. Obviously not all of these movies are being equally prioritized, and some may not ever become a reality. That being said, while there hasn't been an official update about DCEU scheduling in a while, we may finally have an idea what this franchise will deliver after Wonder Woman 1984.
Recent reports have indicated that Birds of Prey, The Flash and The Batman are being lined up for release next (not necessarily in that order). That's a good start, but there are still plenty of DCEU projects to choose from afterwards. In fact, we've offered our own suggestions for which movies Warner Bros should prioritize rather than gather more dust, starting with an adventure set far away from Earth.
Green Lantern Corps
So far in the DCEU, our only exploration of the DC cosmic mythology has been visiting Krypton in Man of Steel and Justice League having Steppenwolf and his Parademon army invade Earth. In the latter movie, several Green Lanterns were shown in the flashback battle, but there was no explanation provided about them. Green Lantern Corps was one of the first movies to be announced for the DCEU, and if Warner Bros is at all interested in taking audiences on a ride to across the DC cosmos, this movie is the best way to do it. There's nothing wrong with Hal Jordan and John Stewart spending a little time on Earth, but the main thrust of this movie (which would also help distance it from 2011's Green Lantern) should be seeing these two space cops traveling to other planets and battle alien menaces. Now that Geoff Johns, the man who redefined the Green Lantern mythology in the comics for nearly a decade, has taken over scripting duties on Green Lantern Corps from David Goyer and Justin Rhodes, hopefully that means the project will happen sooner rather than later, though there's no way it will be ready to go by 2020 as was originally planned.
Man Of Steel 2
It may have drawn polarizing reactions, but overall Man of Steel provided an interesting take on Superman's origin. But instead of getting a standalone sequel, Henry Cavill's Kal-El shared the spotlight with Ben Affleck's Bruce Wayne in Batman v Superman: Dawn of Justice. After being killed by Doomsday, Superman was brought back to life in Justice League, but he only had a little bit of time to shine amongst the other ensemble players. Now that our Kryptonian hero has a second lease on life, he deserves another chance to show audiences what he's capable of without sharing the spotlight. Cavill is clearly ready to reprise Superman, even wisely suggesting that Brainiac would may a worthy adversary for Man of Steel 2. Although there have been rumors about who could direct Man of Steel 2, there's been no official movement on moving the project forward, so DC and Warner Bros would be wise to change that.
New Gods
Steppenwolf offered just a quick taste of Jack Kirby's Fourth World mythology in Justice League, and since it doesn't look like Justice League 2 is happening anytime soon, the New Gods movie, which will be directed by A Wrinkle in Time's Ava DuVernay, is the best way to further explore this crazy corner of the DC universe. Like Green Lantern Corps, New Gods would explore a cosmic corner of the DCEU, but its focus would be narrowed on two worlds: New Genesis, led by Highfather, and Apokolips, led by Darkseid. The New Gods lineup includes characters like Mister Miracle, Big Barda, Orion, DeSaad, Kalibak and Granny Goodness, the inhabitants of both worlds have been engaged in conflict for countless ages. New Gods is the perfect platform to finally introduce Darkseid, who Steepnwolf named dropped in Justice League, and it's also a movie that can further enhance the DCEU mythology without needing to have any close ties with other upcoming projects.
Batgirl
It remains unclear whether or not Barbara Gordon will actually appear in Birds of Prey, but either way, the DCEU has plans for her beyond that movie. Originally Joss Whedon was attached to write and direct a Batgirl movie, and after he stepped away, Christina Hodson, who penned Birds of Prey, was brought in to tackle the screenplay. It's no secret that Barbara wasn't done justice in 1997's Batman & Robin, so this DCEU Batgirl movie can finally give her some live action, cinematic redemption. Batgirl is one of the most well-known superheroines in pop culture, and while there's also a Nightwing movie in development, it'd be better to point the spotlight on Barbara first so we can add more female representation in this franchise. In fact, if Nightwing doesn't work out, then Dick Grayson could easily be included as a supporting character in Batgirl. Regardless, it would be great to follow Barbara's crimefighting career when she doesn't have Batman looking over her shoulder.
Deathstroke
Justice League's post-credits scene showed the recently-escaped Lex Luthor trying to recruit Slade Wilson, a.k.a. Deathstroke, to help him form "a league of their own" to combat the new superhero team. As mentioned earlier, it doesn't look like Justice League 2 is happening anytime soon, but that doesn't mean Mr. Wilson has to wait on the sidelines. In October of last year, just a month before Justice League came out, it was announced that Gareth Evans was hired to write and direct a Deathstroke movie, and while the character has gotten a lot of exposure outside of the comics thanks to projects like the Teen Titans animated series and Arrow, he's definitely deserving of a live action movie. Depending on how he's written, Deathstroke straddles the line between anti-hero and villain, but make no mistake, he's a compelling character who's worthy of leading his own cinematic adventure (although it would have been great to see him clash with Batman). With Joe Manganiello wearing the eyepatch, Deathstroke can open up a new, action-packed corner of the DCEU.
This poll is no longer available.
Connoisseur of Marvel, DC, Star Wars, John Wick, MonsterVerse and Doctor Who lore. He's aware he looks like Harry Potter and Clark Kent.
Your Daily Blend of Entertainment News
Thank you for signing up to CinemaBlend. You will receive a verification email shortly.
There was a problem. Please refresh the page and try again.