This Rotten Week: Predicting A Star Is Born And Venom Reviews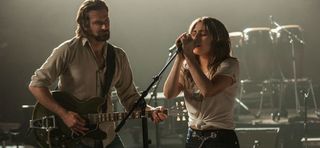 There are only two movies on the docket this week, and, without giving too much away, it looks like they exist on totally different ends of the critical spectrum. On one side we have what looks like could be a serious contender for major prizes in the upcoming award season; and the other looks like an unfortunate new addition to the ever-growing list of live-action comic book movies. Get ready for A Star Is Born and Venom.
Just remember, I'm not reviewing these movies, but rather predicting where they'll end up on the Tomatometer. Let's take a look at This Rotten Week has to offer.
Considering her talent, ability to play different characters on stage, and general showmanship , Lady Gaga was always going to hit the big screen in a dramatic role eventually. And by all early accounts she crushes it in A Star Is Born, the third remake of the 1937 original of the same name. The movie follows Bradley Cooper's character, a famous country music star, who meets and falls in love with an up-and-coming singer (Gaga). The discovery starts him on a path towards getting his life on the straight-and-narrow, but it turns out to be a hard path to walk.
Critics have universally praised the film since its festival debut in September, with the Tomatometer sitting at 95% with almost 100 reviews posted. The love isn't just coming in for Lady Gaga, as it's also there for Bradley Cooper - who not only stars, but also makes his writer/director debut. Like the case with Gaga, the first time seems to be the charm. Critics love the tone of the feature, complimenting the musical numbers and the on-screen chemistry of the leads. I doubt we see the score move over the course of the week.
Venom is often associated with Spider-Man because that's where the character was first introduced in Marvel Comics, but because the beloved webslinger is now occupying the Marvel Cinematic Universe, Sony has a need to try and really exploit the limits of their license ownership. As a result, we are now getting a Venom movie that doesn't feature the wall-crawler - and sadly it looks like it's going to be much more like Amazing Spider-Man 2 than Spider-Man: Homecoming.
Being set apart from the franchise, Venom looks to feature a different tone than the releases from Marvel Studios, and has a real dark, and, frankly, more creepy vibe (especially in how they portray the character). That being said, it's not Rated-R, only PG-13. It looks like it's trying to have mass comic book movie appeal and fanboy/horror niche qualities, but I don't think either will fully work. Director Ruben Fletcher also helmed Zombieland (90%) and 30 Minutes or Less (44%), and I don't have strong hopes for the critical success of his latest.
We are on a strong run with the Rotten Watch. After a 3-3 showing two weeks ago, we followed it up with three of the four predictions falling in range last time around. Night School (Predicted: 34% Actual: 31%) seemed like an easy one. It had all the trappings of your nonsensical comedy with a bunch of jokes prewritten and just needing some kind of vehicle to deliver them. Critics were underwhelmed to say the least.
Meanwhile, Smallfoot (Predicted: 70% Actual: 68%) looked like a cute, family-friendly story with a solid message, and critics felt that way about the finished produc With animated movies, it's important to appeal to both kids and adults (namely: their parents), and he best way to do that is with a strong story that also features some adult-level humor. Smallfoot mostly checked those boxes, and scored well on the Tomatometer.
Critics weren't at all impressed with Little Women (Predicted: 39% Actual: 35%), which barely made it into having a "consensus" with only 17 reviews posted. For a widely-released film, no one seemed all that interesting in giving an opinion. The trailer made the flick seem contrived and forced, co-opting the name of the book to make a completely different movie. It didn't pay any dividends.
And finally, my one miss was Hell Fest (Predicted: 21% Actual: 38%). I'm actually kind of shocked this film finished as high as it did. If anything, I thought my prediction was going to be on the high side, but the critics who did give it a thumbs up nodded to its pacing and that it didn't screw anything up all that bad. It wasn't lauding praise at all, but for sure more positivity than I guessed.
Next time around we've got Bad Times at the El Royale, First Man and Goosebumps 2: Haunted Halloween. It's gonna be a Rotten Week!
Doug began writing for CinemaBlend back when Terminator: The Sarah Connor Chronicles actually existed. Since then he's been writing This Rotten Week, predicting RottenTomatoes scores for movies you don't even remember for the better part of a decade. He can be found re-watching The Office for the infinity time.