Did Chris Evans Just Say Goodbye To Marvel For Good?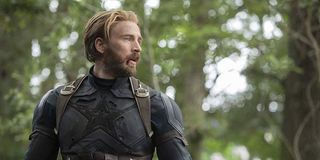 Ever since he was brought into the Marvel Cinematic Universe in Captain America: The First Avenger, Chris Evans' Steve Rogers has been one of the franchise's anchoring characters. Whether by himself or with his superhero allies, Steve has kept humanity safe time and time again, but over the last couple years, there's been the sense that his time is drawing to a close. The latest example of that is Evans announcing that he's wrapped filming Avengers 4, and he appears to be saying goodbye to both Captain America and Marvel for good.
Had Chris Evans stuck to his initial, six movie contract (excluding cameos) with Marvel Studios, Avengers: Infinity War would have served as his final appearance in the MCU, but Evans agreed to also return for Avengers 4 because the movie was "going to wrap everything up." As for post-Phase 4, while neither Marvel or Chris Evans have provided official confirmation, there's been no indication that Steve Rogers will be around, and Evans' above tweet implies that whatever happens to Steve at the end of Avengers 4, the actor won't be around for the next stage of this continuously-expanding franchise.
You have to hand it to Chris Evans, eight years is a hell of a run. Having already left his mark on the superhero movie world as Johnny Storm, a.k.a. The Human Torch, in 2005's Fantastic Four and 2007's Fantastic Four: Rise of the Silver Surfer, Evans made an even bigger impact as Captain America, leading three of his own movies, co-starring in all the Avengers movies and even popping up briefly in Thor: The Dark World and Spider-Man: Homecoming. But eventually every actor must leave a role, and Evans has been strongly hinting that Avengers 4 will be his last outing as Captain America. Again, officially we don't know this for sure, and even if this is what's happening, there's always the chance that years down the line, an opportunity could arise where he'd be interested in reprising the role. But for now, fans should make peace with the idea that he'll soon be departing from the MCU.
When we left off with Steve Rogers in Avengers: Infinity War, he was one of the few superheroes who survived the Thanos snap, and like everyone else around him, was shocked at the genocide that had unfolded in a matter of minutes. Just like with Infinity War, Marvel is keeping extremely tight-lipped about the Avengers 4 story, and all we know for sure about Steve is that he's reverted back to his clean-shaven look, is back to wearing a traditional Captain America costume and will have a bigger role compared to how he was used in Infinity War. Beyond that, we have no idea what's in store for the super-soldier in Avengers 4, including his ultimate fate. Will he die in battle? Will he simply retire from the superhero life? Will he somehow reunite with Peggy Carter? Since it appears this will be the last time we see Evans' Cap, one thing is certain: his exit needs to be memorable.
Avengers 4 opens in theaters on May 3, 2019, and don't forget to look through our Marvel movies guide to learn what else is in development for the MCU.
Your Daily Blend of Entertainment News
Connoisseur of Marvel, DC, Star Wars, John Wick, MonsterVerse and Doctor Who lore. He's aware he looks like Harry Potter and Clark Kent.