The Main Marvel Character Who Definitely Will Have A Larger Role In Avengers 4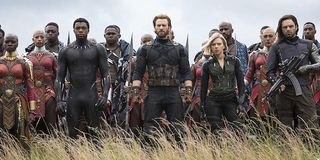 When you have a cast that's as stacked as Avengers: Infinity War's, it's impossible for all the major characters to be equally important to the story. Such was the case for Chris Evans' Steve Rogers, a.k.a. the former Captain America, because although he was on the frontline with the other Earthbound Avengers, he wasn't one of Infinity War's more integral players. However, Steve was one of the lucky ones who survived Thanos' Infinity Stones-powered snap at the end of the movie, and during the commentary track on the Infinity War Blu-ray, co-writer Christopher Markus said that Steve will have a bigger role in next year's Avengers 4. As Markus put it:
Ever since we watched the beginning of his heroic journey in 2011's Captain America: The First Avenger, Steve Rogers has been one of the most important superheroes in the Marvel Cinematic Universe, and Avengers: Infinity War marked his sixth full appearance in the franchise (eighth overall if you count Loki disguising himself as the Star-Spangled Avenger in Thor: The Dark World and those PSA videos from Spider-Man: Homecoming). In the two years that passed since Captain America: Civil War, Steve continued fighting the good fight, albeit from the shadows given his fugitive status. Steve hit the scene in Infinity War with Black Widow and Falcon after being contacted by Bruce Banner, leading to them saving Scarlet Witch and Vision from Proxima Midnight and Corvus Glaive. Steve and the other Avengers on Earth eventually headed to Wakanda, where the big battle for the Mind Stone unfolded. Unfortunately, despite their best efforts, Thanos succeeded in removing that Stone from Vision's head, killing the android. Soon thereafter, half of all life in the universe was extinguished, leaving Steve and the other survivors to simply stand in shock at the genocide that just occurred.
While it hasn't been officially confirmed yet, the signs are pointing towards Chris Evans leaving the MCU after Avengers 4. Evans' original Marvel contract was actually done after Avengers: Infinity War, but he decided to stick around for Avengers 4 since he knew it was going to "wrap everything up." So assuming Avengers 4 is the last time we see Steve Rogers, it make sense that he would have a larger role. Steve needs a proper conclusion to his story, and while he obviously can't be the "main" character in an ensemble piece like this, it sounds like writers Christopher Markus and Stephen McFeely knew that Steve needed to be more prominent in Avengers 4 compared to how he was used in Infinity War. As for what Steve's ultimate fate will be, we'll have to wait nine more months for that answer.
Avengers 4 will be released in theaters on May 3, 2019, but those of you eager to watch/re-watch Avengers: Infinity War can do so now on Digital HD, while the Blu-ray and DVD copies hit shelves on August 14. For all the latest updates concerning the MCU, stay tuned to CinemaBlend.
Connoisseur of Marvel, DC, Star Wars, John Wick, MonsterVerse and Doctor Who lore. He's aware he looks like Harry Potter and Clark Kent.
Your Daily Blend of Entertainment News
Thank you for signing up to CinemaBlend. You will receive a verification email shortly.
There was a problem. Please refresh the page and try again.