Is First Man's American Flag Controversy Affecting Its Box Office?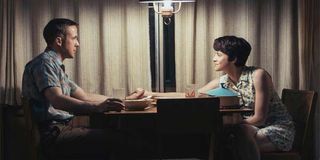 First Man hit movie theaters a couple of weeks ago and so far the box office has not been as noteworthy as expected. The film stars popular actor Ryan Gosling, has La La Land director Damien Chazelle on board and has earned critical acclaim. So, could it be the flag-planting controversy that is keeping people from not showing up?
A new study took a look at moviegoers who had been to the theater in the past 30 days. A total of 295 people were surveyed and of those, only a fourth had even heard that some people were upset First Man had just shown a planted flag rather than a full flag-planting scene. The survey, which was fulfilled by Business Insider and AlphaHQ, took a fairly small sample size, but only 17% of responders ended up saying they were skipping the movie thanks to the flag-planting debate.
That's a decent enough percentage, but probably not enough to make a huge impact on the box office for the Universal movie. In fact, most people who have seen the flick seem to have liked it at least pretty well, with First Man running at 88% for critics and 62% for regular viewers on Rotten Tomatoes.
During its second weekend in theaters, First Man saw a big drop in box office intake. The flick dropped to fifth place during its second weekend, losing to Halloween, A Star is Born, Venom and Goosebumps 2: Haunted Halloween. During its second weekend, First Man made about $8.5 million at the box office, meaning it's just under $30 million in total intake domestically.
Worldwide, the flick has fared decently, earning more than $25 million, leading to a worldwide total of $55 million plus.
Still, the movie allegedly cost $59 million to make, and that is before any advertising budget is factored in, so it still has a bit of ground to make up before it starts making money for the studio, especially considering the studios pull in fewer dollars per moviegoer outside of the U.S. On the bright side, it has good awards buzz and that could keep First Man in theaters for a while.
Although the flag-planting isn't allegedly keeping people from First Man, earlier this year social media certainly amplified the flag-planting story. Some users on social seemed to be upset that First Man didn't delve deep into the scene, as it is one of the most iconic moments in America history. Even Buzz Aldrin seemingly commented about the scene, noting,
Ryan Gosling also spoke out about the moment in the movie, noting that the artistic choices made were to speak to the human achievement and not necessarily the American one, saying,
Perhaps this is why the foreign box office has been pretty high for a more historical-oriented flick. And perhaps not. Either way, there is no official flag-planting scene, but those who have actually seen First Man in theaters should know that the flag is noted in the scenes even if there isn't an official flag-planting scene. Furthermore, Neil Armstrong's sons have spoken out to state they feel the scene works just fine.
As for the movie itself, we are just now on the cusp of awards season. First Man and October newcomer A Star is Born both have buzz. (Although the latter has been more of a crowd pleaser and has made nearly $202 million worldwide.) The Oscars don't air until February 24, 2019, so there are still a lot of opportunities for movies this winter to grab hold on the public consciousness.
You can catch First Man in theaters and see what else is coming up with our full movies guide.
Your Daily Blend of Entertainment News
Reality TV fan with a pinch of Disney fairy dust thrown in. Theme park junkie. If you've created a rom-com I've probably watched it.