Michael Rooker Finally Speaks Out About James Gunn's Firing From Guardians Of The Galaxy Vol. 3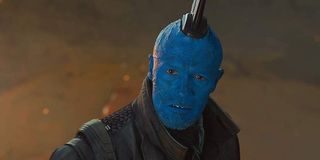 Actor Michael Rooker and director James Gunn have developed a close relationship, both professionally and personally, over more than a decade, with their most well-known work together being Guardians of the Galaxy. So naturally some fans have been curious about Rooker's take on Marvel Studios firing Gunn from Guardians of the Galaxy Vol. 3 this past summer, and this weekend, he finally gave it, saying:
It's worth noting that it hasn't been confirmed yet that James Gunn will direct Suicide Squad 2 for Warner Bros and DC. Right now, all he's set for is penning the new script. Regardless, leaping from the Guardians of the Galaxy movies to Task Force X's is a huge rebound, and while Michael Rooker made it clear that it was a shame that Gunn was forced off Guardians of the Galaxy Vol. 3, the Yondu performer also noted during his appearance at Walker Stalker Con in Atlanta, Georgia over the weekend (via Comicbook.com) that he's glad that Gunn has found such a new, high-profile job so quickly.
This is yet another example of a Guardians of the Galaxy actor having James Gunn's back since he was fired from Guardians of the Galaxy Vol. 3. Dave Bautista, a.k.a. the Marvel Cinematic Universe' Drax the Destroyer, has been especially vocal in his support for Gunn, and both Bautista and the rest of the main Guardians of the Galaxy cast signed a statement that said they wanted Gunn to be rehired days after his firing was announced. Rooker wasn't part of that statement since he made his MCU exit last year, but he's undoubtedly still considered part of that "family."
Michael Rooker (who made his onscreen debut in 1986 with Henry: Portrait of a Serial Killer) first worked with James Gunn (whose credits beforehand included writing the Scooby-Doo movies and the Dawn of the Dead remake) on Slither, Gunn's first feature film directorial endeavor. Nearly a decade later, these two finally collaborated again in Guardians of the Galaxy. Rooker was hired to portray Yondu, leader of the Ravagers clan that kidnapped Peter Quill from Earth when he was a boy.
Although Yondu was supposed to deliver Peter Quill to his father, Ego, the space pirate reneged on that deal when he learned that the Living Planet had killed all the other children he'd sent Yondu to fetch. Yondu kept Peter around and became his adoptive "daddy," though he definitely wasn't great at showing affection.
Over two decades later, in the first Guardians of the Galaxy movie, Peter and Yondu found themselves on opposing sides in the quest to retrieve the Power Stone, although the Ravagers and the newly-former Guardians eventually teamed up to prevent Ronan the Accuser from destroying Xandar. By the end of the movie, while Yondu had been screwed out of the Power Stone by Peter, he was nonetheless amused this his "boy" had pulled one over on him.
In Guardians of the Galaxy Vol. 2, Yondu was overthrown as the Ravagers' leader after Taserface and the other mutineers grew tired from Yondu always protecting Peter Quill and the Guardians. Yondu ultimately escaped custody with Rocket Raccoon, Groot and Kraglin, and killed all the Ravagers who betrayed him and executed his supporters. The four of them then traveled to Ego to help out the Guardians, and in the end, Yondu sacrificed himself so that Peter could live.
While there are countless instances of comic book characters being brought back from the dead, in Yondu's case, James Gunn made it clear that his death was intended to be permanent so that it would be truly significant. That's not to say that Yondu still couldn't appear in flashbacks in Guardians of the Galaxy Vol. 3, but if Gunn's wishes are honored, then don't expect to see the blue-skinned, knick-knack lover resurrected.
And speaking of Guardians of the Galaxy Vol. 3, that movie is currently on indefinite hold following James Gunn's firing. Disney confirmed in late August that it would not bring Gunn back onto the threequel, and now supposedly the search is on for his replacement. Originally Guardians of the Galaxy Vol. 3 was expected to come out in 2020, but now we might have to wait until 2022 for it to arrive (it's worth noting that Marvel recently gave up its July 31, 2020 release slot, which would have been a good date for Guardians of the Galaxy Vol. 3).
As for Suicide Squad 2, all we officially know so far about that project is that James Gunn plans to deliver a "brand new take" on the team that was introduced to the DC Extended Universe back in 2016. While the first Suicide Squad movie didn't earn the greatest critical reception, it was a commercial hit with an over $746 million haul, and it even earned an Academy Award for Best Makeup and Hairstyling.
Before October, it looked like The Accountant's Gavin O'Connor was going to direct Suicide Squad 2, and Todd Stashwick was helping O'Connor with the script. But supposedly due to their story ending up being too similar to Birds of Prey, which has already been given the green light, O'Connor and Stashwick departed, allowing Gunn to step into the creative process.
It may be a while before we learn any details about James Gunn's vision for Suicide Squad 2, but as mentioned earlier, it's impressive that he was not only able to bounce back after the Guardians of the Galaxy Vol. 3 mess, but on a movie hailing from Marvel's Distinguished Competition. And who knows, maybe Gunn and Michael Rooker will be able to collaborate again if the former has a role in mind for the latter.
Stay tuned to CinemaBlend for all the latest updates concerning the Marvel and DC franchises. In the meantime, feel free to plan your trips to the movie theater next year by looking through our 2018 and 2019 release schedules.
Connoisseur of Marvel, DC, Star Wars, John Wick, MonsterVerse and Doctor Who lore. He's aware he looks like Harry Potter and Clark Kent.
Your Daily Blend of Entertainment News
Thank you for signing up to CinemaBlend. You will receive a verification email shortly.
There was a problem. Please refresh the page and try again.