Mickey Mouse's First Theme Park Ride May Be Coming To Disneyland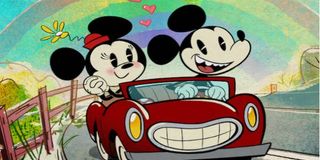 Mickey Mouse celebrates his 90th birthday in 2018 and while the mouse is one of the most iconic fictional characters in history, recognized the world over, he's never had his own attraction at Disneyland. However, it sounds like that's about to change, as a recent report claims that Mickey and Minnie's Runaway Railway, an attraction currently under construction at Walt Disney World, will also be built at Disneyland.
The attraction is already scheduled to open next year at Disney's Hollywood Studio in the space previously housing the Great Movie Ride, but a report coming from WDW News Today claims that the upcoming D23 Destination D event in Florida, taking place November 18, will include the announcement that the same attraction will be built inside Mickey's Toontown at Disneyland. This is expected to be the next addition to the park following the opening of Star Wars Galaxy's Edge, currently slated for the summer of 2019.
The good news, for fans of the existing Toontown, is that the new attraction won't be taking over any existing space. Both Roger Rabbit's Car Toon Spin and Gadget's Go Coaster will continue. The ride building for Mickey and Minnie's Runaway Railway will apparently be built behind the current end of Toontown, in a place where a couple behind the scenes buildings currently reside. The only existing Toontown location expected to close will be the Gag Shop, which will be the new entry point for the queue of the new attraction.
One aspect of the park that may suffer due to the construction, however, is fireworks. One of the buildings that will apparently be lost is the main pyrotechnic launch point. WDWNT reports that that is part of a larger plan to change the park's evening fireworks show starting next year, with the evening spectacular being limited to projection only shows during the week with fireworks only being planned on the weekends. One positive side of this change is that Mickey's Toontown regularly closes down early on nights where fireworks happen because of the proximity to that building, so that may no longer be required once the building is gone.
Assuming that the Disneyland attraction will be identical to the Walt Disney World version, the ride will see guests enter a theater where they begin to watching a Mickey and Minnie cartoon where the pair, along with Pluto, go for a picnic in the park. Eventually, guests will actually walk through the screen and enter the cartoon, where they will enter a train ride vehicle.
The vehicles, which will be using a trackless ride technology, follow the classic Disney characters through a variety of cartoon scenarios including dealing with stampeding animals, a cyclone, a waterfall, and more. Each room of the ride will be accompanied by animatronic figures as well as what's being called 2.5D effects (something like 3D, but without glasses).
The only significant difference between the two versions of the attraction is likely the ride building itself. At Disney's Hollywood Studios, Mickey and Minnie's Runaway Railway will be housed inside the replica of the Chinese Theater. Such a structure would be out of place inside Mickey's Toontown, so something else will almost certainly be done.
If true, and it appears that it is, this is great news on a couple of fronts. First off, seeing Mickey and Minnie Mouse get an attraction of their very own at Walt Disney's original theme park is a long overdue honor. It's remarkable that this hadn't happened previously, but in the end, it's just nice to know that it's happening at all.
Secondly, it's a great addition to Mickey's Toontown, an area that has never been able to realize its original promise.
Originally, Toontown was designed as a land that was going to be dedicated to the world and characters of the movie Who Framed Roger Rabbit. However, as the Roger Rabbit character was co-owned by Disney and Steven Spielberg's Amblin Entertainment, the two sides had to agree on what attractions would be designed and how the characters would be used. Ultimately, the two companies had trouble finding common ground, and Disney had financial difficulties stemming from the problematic opening of EuroDisney (now Disneyland Paris), and so only one Roger Rabbit themed attraction was created, a simple dark ride that took guests through the events of the film. A Roger Rabbit walk around character was also created but he has not been seen in the park in years.
Beyond the two simple existing attractions, Mickey's Toontown contains the "homes" of Disney characters like Mickey and Minnie and Donald and Goofy. The characters can frequently be found there for photo ops and while the houses are fun to walk through, the land feels small overall and clearly hasn't been given much attention recently. This one attraction will go a long way to improving that. If this will be the first of a collection of upgrades to the area, that would be even better, though obviously, that's far from clear.
Of course, one downside of another brand new attraction at that end of the park will be the crowds. Mickey's Toontown is right next door to where Star Wars Galaxy's Edge is being constructed and that means large crowds heading to the same general area of the park. Recently, it's been reported that a lot of benches and planters inside Disneyland have been removed as a way to deal with the overwhelming crowds, both those that already exist and those that are expected once Galaxy's Edge is open to the public.
While the reports seem to indicate this is a sure thing, we'll have to wait for the announcement in a couple of weeks to confirm. There certainly may be additional announcements along with this one that we'll get on the 18th. We'll need to wait and see what happens. Exactly when construction will begin on the new attraction or when it is expected to open is not clear, and while it's unlikely Disney will confirm the latter date this far out, we may find out when construction will begin.
The Disney's Hollywood Studios version of the attraction is slated to open sometime in 2019.
Content Producer/Theme Park Beat
CinemaBlend's resident theme park junkie and amateur Disney historian. Armchair Imagineer. Epcot Stan. Future Club 33 Member.
Your Daily Blend of Entertainment News
Thank you for signing up to CinemaBlend. You will receive a verification email shortly.
There was a problem. Please refresh the page and try again.