Shrek Is Getting Its Own Reboot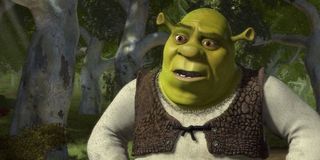 Once upon a time, Shrek was one of the most popular animated franchises in the world. What started out as a cinematic adaptation of the children's book Shrek! by William Steig turned into a pop culture heavy-hitter that led to sequels, short films, TV specials and even a spinoff film for Puss in Boots. Today, it's been announced that like so many properties before it, the Shrek franchise is getting the reboot treatment from Universal Pictures.
This time around, it's Chris Meledandri, the producer of the Despicable Me franchise, that's overseeing these new versions of Shrek and Puss in Boots. As reported by Variety, Universal has taken Meledandri with finding "some fresh story lines" to reintroduce the ogre and his supporting cast to new generations of moviegoers. However, unlike traditional reboots, which start from scratch and bring aboard new actors, Meledandri doesn't want to mess with Shrek's cast and would like to bring back Mike Myers, Eddie Murphy, Cameron Diaz and Antonio Banderas, among others. Meledandri explained:
While there have been instances of an actor playing the same character within two different continuities of a franchise (Judi Dench as M in the James Bond movies, for example), usually the term 'reboot' means putting a new spin on an existing property and ignoring what came before. Chris Meledandri's comment makes it sound like he wants it both ways with Shrek; to have the original voice cast return, but to also make sure this new movie can be enjoyed as a standalone tale rather than be looked at as Shrek 5.
New of a Shrek reboot comes two years after Universal's parent company, Comcast, bought Dreamworks Animation, which counts Shrek among its properties, for $3.8 billion. Chris Meledandri is just getting started figuring out how to handle the Shrek reboot, but the producer noted that it's only a matter of time before we get to revisit this fairy tale world. As he put it:
Chris Meledandri also added that after Dreamworks Pictures was purchased by Universal, he was given the opportunity to oversee Dreamworks Entertainment. However, because Meledandri is already keeping busy enough as the CEO of Illumination Entertainment (which he founded), he decided to he wouldn't have been able to manage two companies and maintain the same level of quality, so he didn't snag that particular job.
It's been over a decade since Shrek 5 was announced. After Shrek 2's release in 2004, Dreamworks' Jeffrey Katzenberg stated that the Shrek franchise had been outlined as a five-movie story since the first movie was being developed, and Shrek 5 was intended to be released in 2013. However, in 2009, Shrek 4, later titled Shrek Forever After, was deemed to be the final Shrek movie, thus resulting in Shrek 5 been scrapped.
Shrek Forever After came out in 2010, and while it was a box office hit, making over $752 million worldwide off a budget between $135-$165 million, it earned mixed critical reception. The fourthquel saw Shrek signing a contract drafted by the nefarious Rumpelstiltskin and living in an alternate reality where Shrek was never born. By the end of the movie, Shrek no longer felt like he needed to live like a "real ogre" again, and after being transported back to his reality, he embraced the life he'd made with his family friends.
For several years, it looked like Shrek Forever After would remain the final story in the Shrek franchise, but then talk of Shrek 5 resumed in 2014 when Jeffrey Katzenberg hinted that the project could still become a reality. In 2016, NBCUniversal chief Steve Burke mentioned that there were talks in motion to revive the Shrek franchise, and a year later, Michael McCullers, who was hired to write Shrek 5, said that the movie would be much different than its predecessors.
It's unclear if Chris Meledandri is using any or all of Michael McCullers' script, or if he's wiped the proverbial board clean and envisioning a new version of Shrek, but either way, it's looking likelier than ever that Shrek and his pals will be returning to the big screen. Whether or not this "reboot" will actually just be a standalone sequel or if it will actually interpret these characters through a new lens remains to be seen.
But let's also not forget Puss in Boots! The swashbuckling cat was introduced in Shrek 2 and stuck around for the other sequels, but then in 2011, he starred in his own spinoff, which chronicled one of his pre-Shrek 2 adventures. The Puss in Boots movie made $555 million worldwide off a $130 million budget and earned a lot of positive reviews.
With a performance like that, it's no wonder a sequel, eventually titled Puss in Boots 2: Nine Lives & 40 Thieves, got the green light, and after originally being dated for November 2, 2018, it was pushed to December 21, 2018. However, by January 2015, Puss in Boots 2 was removed from the release schedule to to behind-the-scenes restructuring, and since then there haven't been any major updates about it. Like with Shrek, we don't know with 100% certainty yet if this new Puss in Boots movie will actually just be the long-awaited sequel or a true reboot, though I imagine that there are plenty of people who would prefer Antonio Banderas reprising the feline fencer.
Stay tuned to CinemaBlend for more updates on the return of the Shrek franchise. In the meantime, you can find out what's heading to theaters next year by looking through our 2018 and 2019 release schedules.
Connoisseur of Marvel, DC, Star Wars, John Wick, MonsterVerse and Doctor Who lore. He's aware he looks like Harry Potter and Clark Kent.
Your Daily Blend of Entertainment News
Thank you for signing up to CinemaBlend. You will receive a verification email shortly.
There was a problem. Please refresh the page and try again.