Stan Lee's 10 Best Marvel Cameos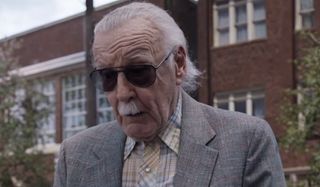 Stan Lee's passing has struck many film and comic book lovers worldwide, and Marvel films won't be quite the same without his patented cameos. While there are still a few on the way like Avengers 4, and Spider-Man: Into the Spider-Verse, we've gathered what we considered to be the 10 best Marvel cameos Lee did to date, and ones fans may want to re-watch following his death. Listed in chronological order, here are our favorites.
Hulk
Stan Lee's cameo in 2003's Hulk may be one of the things its makers can claim tops other Hulk adventures. Lee's security guard was seen speaking to another guard (played by Lou Ferrigno) about the need to beef up security in the building. It's the first time on film Lee spoke as a character based on himself. It also has a connection Lee's first cameo in a Marvel project, which also starred Ferrigno, The Trial Of The Incredible Hulk.
Fantastic Four: Rise of the Silver Surfer
Stan Lee's rejected entry to Reed Richards' and Susan Storm's wedding wasn't just a funny moment in the 2007 sequel to Fantastic Four, it was a callback to Marvel comics. The scene was a recreation of 1965's Fantastic Four Annual #3, in which Stan Lee and Jack Kirby are similarly turned away from the couple's big day. The Fantastic Four: Rise of the Silver Surfer scene also includes Lee referring to himself by his real name, and not another character.
Spider-Man 3
Stan Lee's contribution in 2007's Spider-Man 3 isn't his funniest but is relevant to the film's plot. Lee spoke to Peter Parker as they read a news ticker detailing Spider-Man's saving of a police officer. Lee reminds Parker that "one man can make a difference" and leaves the hero with some food for thought. The "nuff said" really caps this one off, and will probably get a chuckle from Marvel fans for years to come.
Iron Man
2008's Iron Man was a turning point for the Marvel film universe, even if it didn't seem as impactful then as it feels now. Lee, of course, showed up for Robert Downey Jr.'s debut as the hero, and the two shared a moment when Tony Stark mistook him for Playboy founder Hugh Hefner. As a brilliant side note, an alleged autographed photo from Hefner to Lee exists on the internet, although we're not sure if it's legit.
The Avengers
The Avengers was a huge event for Marvel, so it's awesome that such a big film featured such a fleeting appearance from the Marvel creator. Stan Lee was seen in a news report after the superhero team saved the day, and dismissed them in stereotypical New York fashion. Lee could've had a bigger role in the 2012 movie, but arguably has a more memorable moment with his quick appearance at the end of one of Marvel's greatest films.
The Amazing Spider-Man
Lee's cameo in 2012's The Amazing Spider-Man is unquestionably one of his best, mainly due to his performance in the scene. Lee obliviously jamming out to music while Lizard and Spider-Man wreak havoc all around him really broke up a serious moment in the film. It's one of Lee's best acting performances, and he makes it look so effortless. To be fair, it's probably because he was never actually in danger of that table hitting him.
Captain America: The Winter Soldier
Stan Lee once again donned the role of a security guard in 2014's Captain America: The Winter Soldier, although he probably didn't keep that job. Lee's reaction when he realized Cap's WWII outfit is missing is priceless, as he delivered a line that sounds like it should've been said by a teenager shirking his work responsibilities. That's what makes it so great though. Well, that and his dropped jaw while staring at the mannequin.
Avengers: Age of Ultron
Lee's cameo in the 2015 Avengers sequel was a bit beefier than his first, as this time he actually interacted with one of the iconic heroes. The Marvel man shrugged off Thor's warning regarding his request for some of his millennia-aged alcohol. The scene ends with Lee being helped out of the bar while muttering his catchphrase "Excelsior." Lee noted he loved that appearance in particular, mainly because of the extended screen time he received.
Guardians of the Galaxy Vol. 2
For years folks had speculated Stan Lee's character was connected throughout every film, and while that theory has been teased, but never explicitly confirmed, 2017's Guardians of the Galaxy Vol. 2 had some fun referencing it. As Kevin Feige put it when he spoke to CinemaBlend, this cameo does a great job of embodying the "ethereal creative being" Lee was for Marvel comics and a great acknowledgment that he's "one who sits above."
Ant-Man And The Wasp
Stan Lee's joke about the '60s taking a toll on him is a high point in Ant-Man and the Wasp, which is really saying something given the film's laughs. It wasn't the only great joke he had either, as deleted scenes showed Lee delivering several other gut-busting lines that could've easily made the final cut as well. The line chosen is especially ironic, considering Lee was a strong opponent of drugs during the era.
As mentioned, there are quite a few still on the way, and a few more opportunities for audiences to see Stan Lee on the big screen in new Marvel films before his cameos presumably come to an end. When they do, it'll certainly feel as though an era has come to an end, and will be interesting to see whether or not Marvel will continue to honor the creator in future projects.
Fans of Stan Lee who are shocked their favorite cameo didn't make the list can reflect and share their favorite appearance of the Marvel man on film in the comments below. For more on Stan Lee and some of the other cameos he's done over the course of his career outside of the world of Marvel, read up on the recent crossover cameo he had with DC.
Your Daily Blend of Entertainment News
Mick likes good television, but also reality television. He grew up on Star Wars, DC, Marvel, and pro wrestling and loves to discuss and dissect most of it. He's been writing online for over a decade and never dreamed he'd be in the position he is today.