Marvel Comics Legend Stan Lee Is Dead At 95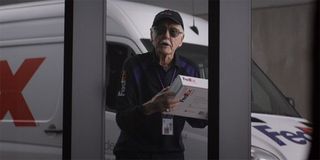 There are a lot of people who have played a role in Marvel Comics becoming so successful, but arguably the most well-known of this large group is Stan Lee. From writer and producer to cameo extraordinaire, Lee wore a lot of hats in his decades contributing to Marvel, but unfortunately, word has come in that Lee has passed away at the age of 95.
According to TMZ, an ambulance rushed Stan Lee from his home early this morning and transported him to Cedars-Sinai Medical Center, which is where he died. No specific cause of death was disclosed, although Lee had suffered from several health problems over the last year, like pneumonia and vision issues. Lee is survived by his daughter, J.C. His wife of 69 years, Joan, passed away on July 6, 2017.
Born on December 28, 1922, Stan Lee kicked off his comic book journey in 1939 when he became an assistant at Timely Comics, Marvel Comics' predecessors that published the adventures of characters like Captain America, Namor the Sub-Mariner and the original Human Torch. After serving in World War II from 1942 to 1945, he jumped back into the comic book world and wrote stories of various genres.
As far as superheroes go, though, Stan Lee and artist Jack Kirby kicked off what we now know as the Marvel Comics universe by creating the Fantastic Four in 1961. Dissatisfied with the work he was doing, Lee was getting ready to switch careers, but after DC Comics revitalized the superhero genre in the late '50s with characters like the Barry Allen Flash and the Justice League, Lee was tasked with creating his own superhero team. With coaxing from his wife and feeling he had nothing to lose, Lee and Kirby brought forth Mr. Fantastic, The Invisible Woman, The Thing and the new Human Torch, the first players in what would become one of the most popular fictional universes ever.
In the immediate years afterwards, Stan Lee co-created many of Marvel's greatest characters, including the Hulk, Thor, Iron Man (all of who, along with Ant-Man and Wasp, would form the original Avengers) and the X-Men with Jack Kirby, Spider-Man and Doctor Strange with Steve Ditko, and Daredevil with Bill Everett, as well as brought Captain America and Namor back into play. Other notable Marvel characters Lee co-created in later years included Silver Surfer, The Falcon and Black Panther, though obviously all these are just the tip of the proverbial iceberg.
Going into the 1970s, Stan Lee ceased his writing duties and became Marvel Comics' publisher, which would ultimately turn him into the company's figurehead. Over the next couple decades, he started turning Marvel into a multi-media force to be reckoned with, and while he even became president of Marvel for a time, eventually he returned to being publisher since it allowed him to be more creative.
Eventually Stan Lee retired from his regular duties from Marvel, but he still remained an important figure at the company for the rest of his life, being dubbed the "Marvel Chairman Emeritus." Lee's other business endeavors included creating Stan Lee Media (which went bankrupt after several years), POW! Entertainment. Lee also had the opportunity to play around with DC (a.k.a. the Distinguished Competition) characters Batman, Superman, Wonder Woman, The Flash, Green Lantern and Aquaman in the Just Imagine... comic book series, giving them brand-new secret identities and gimmicks.
Of course, for those who didn't grow up reading Stan Lee's comic book works, he was best known for his numerous cameos. Lee's first on-screen cameo was in the 1989 TV movie The Trial of the Incredible Hulk, and once the superhero movie genre took off in the 2000s, he briefly popped up in most of Marvel cinematic offerings, even in movies centered on characters he didn't create, like Deadpool and Venom.
Along with cameoing in the upcoming Spider-Man: Into the Spider-Verse and Captain Marvel, it was confirmed that Stan Lee had filmed something for Avengers 4, it remains to be seen if that will be his last Marvel movie cameo or if he shot something for Spider-Man: Far From Home. Lee's notable non-Marvel cameos included Mallrats, The Big Bang Theory, Heroes, Chuck, and Teen Titans Go! to the Movies and the forthcoming Ralph Breaks the Internet.
Unfortunately, the last year of Stan Lee's life was tainted by controversy and problems outside of his health issues. Perhaps the weirdest of these news items was that someone tried to sell copies of Black Panther comic books that were signed with Lee's blood. Lee's blood was reportedly stolen from him by a former business associate who presented nurses with fake documents that authorized blood samples to be drawn. Lee was also robbed of $1.4 million from his home.
However, arguably the biggest shakeup in Stan Lee's life in the last year of his life was his tumultuous relationship with his former business partner, Keya Morgan. Despite previously defending Morgan from allegations that the man had been mistreating him, Lee filed a restraining order against Morgan over the summer, claiming Morgan mishandled Lee's money, physically and emotionally abused him and tried to isolate him from his family.
It's sad that the last years of Stan Lee's life were filled with so much sadness, but one thing we can take comfort in is that his legacy has been cemented. Thanks to Lee, the comic book industry was changed for the better, and his creations will live on for decades to come. Whether you're a Marvel fan or prefer stories from other companies, there's no denying the impact he left on this medium, and thanks to his work, many kids over the decades grew up to be, as he so often called fans, "true believers." So to you, sir, I say, Excelsior! You will be missed.
We here at CinemaBlend offer our condolences to Stan Lee's family and friends. If you have a favorite Lee moment, whether it's from meeting him in person or just something you heard about through the grapevine, be sure to let us know about it in the comments below.
Connoisseur of Marvel, DC, Star Wars, John Wick, MonsterVerse and Doctor Who lore. He's aware he looks like Harry Potter and Clark Kent.
Your Daily Blend of Entertainment News
Thank you for signing up to CinemaBlend. You will receive a verification email shortly.
There was a problem. Please refresh the page and try again.