Shazam's Director Reveals How Goofy Scenes Look With Stand-Ins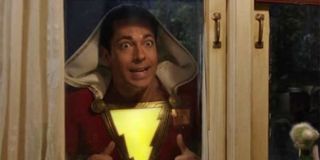 There's a lot of intense stuff that goes into the making of any movie, and that's especially true of big budget superhero movies that feature tons of additional CGI, intricate costumes, impressive fight sequences and more. Not everything on set is always high tech, though. Shazam! Director David F. Sandberg recently shared an image from the set with a Zachary Levi stand-in that really cracked him up. Take a look.
Normally, on the set of Shazam it would be Zachary Levi's character hanging out with his pal Freddy Freeman, played by Jack Dylan Grazer. When stand-ins are on set, however, they don't get the full (and presumably wildly expensive) wardrobe. Instead, apparently production gives Levi's stand-in some sad snow pants, a bulky red sweater and what looks to be a blunt piece of material that wasn't even hemmed around his shoulders.
David F. Sandberg calls it "really shitty cosplay" in his Instagram post, which it fitting and perfect for whatever that look is, considering I've seen some really intricate cosplay in my day. On set, though, while a shot is being set up, no one really seems to give a fig how the stand-in looks.
That said, this might be good news for the dude standing in for Zachary Levi in the shot. Superhero costumes are not known for being particularly comfortable. Some are wildly hot. Others are pretty tight and difficult to get in and out of. Plenty more are bulky. If you've seen the actual full costume look from the trailer, there is a short cape and a bit of a bulky look that fits the character's comic book roots.
David F. Sandberg has previously said the vibe was to be "more of a Golden Age superhero." The costume has still been undergoing a lot of changes between the time the first image was introduced and the present. Indeed, the final suit may even look different on the big screen. As Sanberg also mentioned before this post:
The stand-in sort of looks like the type of Shazam! costume that a 10-year-old kid would have created for his first movie endeavor, which is sort of fitting, considering the subject matter of the movie. Shazam! Will follow Billy Batson, a 14-year-old foster kid who is given superhero powers by an ancient wizard and has to learn to play act as an adult superhero.
If you'd like to know more about how that all works, we have you covered.
In the meantime, you can catch Shazam! starting on April 5, 2019. You can see what other flicks are coming out in the new year with CinemaBlend's full movie schedule.
Amazing Race & Top Chef superfan with a pinch of Disney fairy dust thrown in. If you've created a rom-com I've probably watched it.