How Kenneth Branagh Convinced Judi Dench To Play A Male Elf Book Character In The Artemis Fowl Movie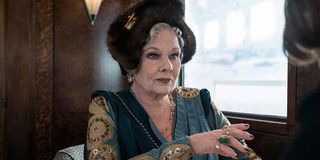 Artemis Fowl is a brilliant character at the center of a set of books that delve into a world full of fairies and other fantastical creatures. In Eoin Colfer's popular novel series, Fowl often encounters Julius Root, the commander of LEPRecon, a curmudgeonly older dude with chest hair who smokes cigars on the regular. It's hard to imagine Judi Dench in that role, but she will play a female version of Commander Root in the new movie based on the book... and director Kenneth Branagh had a heck of a time convincing the actress to do it.
During a set visit earlier this year, Kenneth Branagh explained to CinemaBlend and a set of reporters that choosing to cast a female actress like Judi Dench in a traditionally male role had everything to do with "the uninformed hunt," explaining,
At 83 years of age, Judi Dench has taken on a lot of different types of roles over the years. However, it's not often that a gender-switched elf role comes along in a universe that ties in the world as we know it with a magical underworld filled with possibility. According to Branagh, the role was ultimately outside the box enough that Judi Dench was intrigued, but watching her transform into the character was a different matter entirely.
When it hits theaters, Artemis Fowl will feature some actors who have been in the business for quite a long time. People like Judi Dench, Josh Gad and Nonso Anozie will all pop up in the film. However, Artemis Fowl will also feature newcomers like Ferdia Shaw and Lara McDonnell, and Judi Dench's occasional reticence in regards to knowing how to translate a curmudgeonly male elf onto the big screen as a steely female elf proved to be a good learning lesson for the newcomers. Per Branagh:
Judi Dench has been in this game for a long time and still occasionally gets lost in the character, a lesson that is good for the newcomers to learn. Dench is also a major professional, however. Eventually, Kenneth Branagh says that she began roaming around the rehearsal space growling "Knock it off" in a way that reminded the director of Napoleon. So, her version of Commander Root sounds as if it will feature a lot of the same facets as the male literary version, although since it's a modern-day Disney movie, there may not be any smoking, fungus cigar or no. It should also bring some additional female power to a series that traditionally features a slew of dudes.
If you'd like to take a look at what the final version will be like onscreen, you can check out the first trailer for Artemis Fowl, below.
The movie based on Eoin Colfer's series has been a long time in the works, as Kenneth Branagh admitted to reporters he was working on creating the project for the big screen long before his recent movie Murder on the Orient Express got off the ground. Although Artemis Fowl has moved forward at this point, it doesn't hit theaters until August 9th 2019, which means we still have a while to wait to catch the flick. To find out what else is hitting theaters in 2019, take a look our full movie schedule.
Your Daily Blend of Entertainment News
Reality TV fan with a pinch of Disney fairy dust thrown in. Theme park junkie. If you've created a rom-com I've probably watched it.