Disney May Finally Adapt Artemis Fowl With A High Profile Director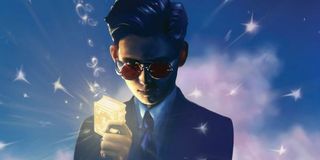 Discussions over the adaptation of the Artemis Fowl book series have been going on now for 14 years. During this time the project has repeatedly stalled, with a stream of directors signing up and then dropping out of development. But now it appears as though Walt Disney Pictures has finally found the right director to kick off the franchise, as they're in discussions with Kenneth Branagh to bring the series to the big screen.
Variety's sources allege that Branagh has now signed up to develop the property with the studio as its director. But that's not all, because he is also set to bring the much loved series of books to life with the help of Irish playwright Conor McPherson, who is currently holding talks to pen the first script.
While this would normally suggest that Disney, Branagh, and McPherson are now full-steam ahead with Artemis Fowl, the troubled history in developing these books dates back so far that those in control won't be counting their chickens just yet. In fact, Conor McPherson hasn't actually signed on the dotted line to officially handle the adaption yet, even though all the current signs suggest that he will more than likely do just that.
Kenneth Branagh is also attached to produce the project, while he'll get a helping hand in this capacity from the loveably vivacious Harvey Weinstein. The duo, as well as everyone involved with Disney, have high hopes that the set of eight science fiction novels can blossom into their very own multi-billion dollar franchise. Having been described by Eoin Colfer, the man who wrote the popular books, as "Die Hard With Fairies," there's certainly every chance that it could succeed.
Artemis Fowl revolves around the delightfully named title character, a small, cunning, and rather brilliant 12-year-old criminal mastermind. Fowl looks to extort gold from a secret group of Fairy People. However, this ploy puts him in direct conflict with some of the most vile and dangerous creatures on the planet. Over the span of eight books, Artemis Fowl is very much an anti-hero, but he evolves and even ends up working with a posse of fairies to try and stop villains from destroying the world.
While it might sounds like a hodgepodge of adult characters in a childish realm, Artemis Fowl was met with sterling reviews upon its release, and each additional instalment only added to the praise. Meanwhile, the powers that be over at Disney will also be purring with delight over the fact that 13 million copies of the series have been sold worldwide, so it comes with a ready-made audience.
It also seems as though the franchise is now in rather safe hands too. Because even though Lawrence Gutterman (Cats And Dogs), Jim Sheridan (In America), and Michael Goldenberg (Harry Potter And The Order Of The Phoenix) have each tried their hands at developing the books, Kenneth Branagh is currently on a hot streak, having recently overseen Cinderella, while he's also now developing a remake of Murder On The Orient Express for Fox.
Your Daily Blend of Entertainment News
Thank you for signing up to CinemaBlend. You will receive a verification email shortly.
There was a problem. Please refresh the page and try again.