5 Fascinating Ways Creed II Expands On The Rocky Saga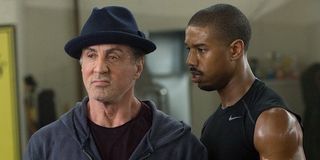 With all due respect to Adonis Creed (Michael B. Jordan) and his supportive wife, Bianca (Tessa Thompson), the shadow of Rocky Balboa (Sylvester Stallone) and the touchstones of his life continue to loom large over Creed II -- much the same way that they loomed large over the initial Creed.
This is intentional, though. Including Stallone as a pivotal supporting role player in these movies ensures that the focus largely pulls in Rocky's direction every time that he's on screen. (This is a large part of the reason why I argued that Creed was basically just Rocky 7, despite the shift in focus to young Adonis.)
And the decision to turn Creed II into an indirect sequel to Rocky IV, one of the significant chapters in the ongoing Rocky Balboa saga, only means that the fictional character's roots serve as the foundation for most of the narrative development happening in the new movie.
Understanding that, it's exciting and emotional to watch Creed II, not to see how Adonis (Michael B. Jordan) will rise to the challenge issued by Viktor Drago (Florian Munteanu), but to see how unanswered questions of the Rocky films now come to light. The Rocky/Creed movie franchise has morphed into a long-running soap opera, and we return every few years to learn more about these beloved characters. Here, then, are six ways that the new Creed II expands on the beloved Rocky saga.
Needless to say, this whole thing will be littered with spoilers, so if you haven't seen Creed II, you might want to back out now.
Logan
It's probably easy to forget that Milo Ventimiglia, he of This Is Us fame, played Rocky and Adrian's son, Robert, in the 2006 sequel Rocky Balboa. That film was largely considered Sylvester Stallone's swan song in his iconic boxing role, though Sly happily stepped back into Balboa's shoes when the idea for Creed rolled around.
Creed II makes room for Robert again, explaining that Rocky and Robert are on the outs. They haven't spoken in years, and Rocky tells Adrian -- by talking to her tombstone -- that calling him, after all of these years, is easier said than done. It doesn't help that Robert has a son, and Rocky feels horrible that he hasn't been a part of this little boy's life.
Until the end of the movie, where, in a heartwarming cameo, Ventimiglia returns to the franchise as Robert, and opens the door of his home to his prodigal father. And Rocky finally gets to meet Logan (Robbie Johns), his grandson. The Rocky/Creed movies have always been about legacies, and the bonds between fathers and sons. This was a tender moment on which to end Creed II.
A Mother Returns
Adrian can't come back to the series. Rocky Balboa killed off Talia Shire, so that door is closed. But Creed II does dig deep into the franchise's history to bring back another significant mother and wife, as Brigitte Nielsen reprises her role of Ludmilla Drago from Rocky IV.
Turns out, being married to the Russian athlete who loses a significant boing match to a plucky Pennsylvanian boxer is bad for Ludmilla's reputation. So we learn in Creed II that she walked out on Ivan Drago (Dolph Lundgren) shortly after the events of Rocky IV... and ignored her son, Viktor, in the process.
But, like a shark who smells blood in the water, Ludmilla is back circling Viktor and Ivan now that daddy has shaped their son into a sculptured fighting machine. She thinks the Drago name is about to become worthwhile again -- and if there's opportunity present for Ludmilla, she'll happily snatch it up.
Rocky's Repercussions
So much of Creed II is how the events of Rocky IV are pushing Adonis Creed into a vengeance fight, for Viktor is the son of the man who killed Adonis' father, Apollo Creed. And Apollo's shadow looms are large over Creed II as Rocky's does. Quite literally, when Adonis returns to Delphi Boxing Academy to train, a larger-than-life photo of Apollo looks down on "Donnie," almost judging his every move.
But for the first time in the saga, Creed II also elaborates on how the fight with Drago (Dolph Lundgren) broke Rocky (Sylvester Stallone). We assume Rocky was fine, because he won -- and ended Communism as a direct result. (Isn't that what happened?)
Yet, in a candid moment with "Donnie," Rocky admits that getting hit by Drago broke things inside of him that never were fixed. And sure enough, when you think back to Rocky V and Rocky Balboa, the "Italian Stallion" never was the same fighter, overcoming adversity in a scrappy fashion but lacking some of the swagger that made him a champion. The repercussions of the Drago fight bleed down from Rocky to Adonis... literally.
Rocky's Resistance
This older, wiser Rocky brings a lot of this life experience to Creed II, and tries to pass it down to Adonis (Michael B. Jordan). And it's fascinating to watch in this new movie how much "Donnie" sounds like a young Rocky... and how much Rocky now sounds like his former trainer, Mickey (played by the legend Burgess Meredith).
From the moment that Rocky first lost to Apollo Creed at the end of the original Rocky, Mickey basically wanted his prized pupil to stop fighting. He was opposed to the rematch that was forced on both men. And he pleaded with Rocky not to accept the challenge of the vicious Clubber Lang (Mr. T) in Rocky III.
So it was refreshing to see this mature Rocky evolving into the role of his one-time mentor, pushing back on Adonis and warning him against accepting a fight with Viktor, and asking him over and over WHY he'd even enter the ring with such an animal. Rocky even refuses to stand in Donnie's corner for the first fight. Such a Mickey move.
How Rocky Proposed
I love, in the Creed movies, how Adonis calls Rocky "unc." It's such an endearing term of affection, as Rocky has largely become a father figure in this young man's life -- because Rocky was the closest man to Apollo that Adonis ever knew.
So when it's time to land on his own life moments, Adonis turns to Rocky to ask for advice, and in the process we pick up more information on Rocky's own backstory. In Creed II, as Adonis is preparing to propose to Bianca, he asks Rocky how he did it. The "Italian Stallion" digs into the damaged memory banks of his brain and starts to recall being at the zoo with Adrian, on a cold and snowy day. (These events played out way back in 1979's Rocky II.) It's a tender and sweet detour that reminds us just how long we have been with these characters over eight years, and as Rocky starts telling this story, we almost feel like we were there.
Over the course of these movies, these characters have become family. Which is why we return to them every few years. And you can't do a Creed story without expanding on the Rocky saga. That much has been established. Where will the story go next? Your guess is as good as mine, but we'll be there when the storytellers decide to tell it.
Sean O'Connell is a journalist and CinemaBlend's Managing Editor. He's frequently found on Twitter at @Sean_OConnell. ReelBlend cohost. A movie junkie who's Infatuated with comic-book films. Helped get the Snyder Cut released, then wrote a book about it.
Your Daily Blend of Entertainment News
Thank you for signing up to CinemaBlend. You will receive a verification email shortly.
There was a problem. Please refresh the page and try again.