Dolph Lundgren Thinks Creed II Gives Ivan Drago Redemption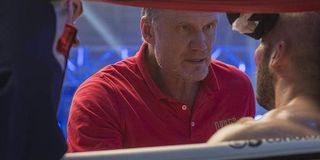 Sylvester Stallone's Rocky Balboa went up against some tough opponents during his boxing career, but arguably the most dangerous of them was Ivan Drago, a.k.a. The Siberian Express. As far as personality goes, though, there wasn't much to Ivan in Rocky IV, as he was presented as a mostly emotionless brute driven solely to win. More than 30 years after his debut, Ivan is returning to the Rocky franchise in Creed II, and Dolph Lundgren thinks that this movie finally redeems Ivan as far as characterization goes. As the actor said while recalling Rocky IV.
Ivan Drago was the third major antagonist of the Rocky franchise. The eponymous protagonist went up against Apollo Creed twice, and while Carl Weathers' character was boastful, brash and willing to taunt Rocky as needed, ultimately he and Rocky became friends. Then there was Clubber Lang in Rocky III, who was especially belligerent and indirectly caused the death of Rocky's trainer, Mickey Goldmill. Ivan Drago was a sharp departure from both of these men: quiet and unwilling to engage verbally with his opponent outside of a few choice words ("I must break you" will always be a classic).
While this robot depiction helped Ivan Drago distinguish himself from the previous Rocky rogues, as Dolph Lundgren pointed out , this led to Rocky IV viewers thinking that the actor himself didn't have anything to offer emotionally. Playing such an iconic character in his first major movie appearance clearly gave people the wrong impression of Lundgren, but with Creed II, not only does he get to reprise the character, he also gets to finally give him some more emotional depth and humanity.
When we last left off with Ivan Drago in Rocky IV, he and Rocky were in the heart of Mother Russia duking it out, Ivan determined to truly be the best boxer in the world and Rocky seeking to avenge Apollo Creed's death. It was a tough match, but in the end Rocky came out victorious and delivered an impassioned speech for the United States and the Soviet Union to finally, for all intents and purposes, end the Cold War. Who knew that one boxing match could be so impactful? Then again, Rocky IV's reality does feel more heightened and extreme compared to the other movies.
However, even if you're victorious in a fight against a brute like Ivan Drago, that doesn't mean you come out unscathed. As critically derided as it is, Rocky V did show that the pain Ivan inflicted on Rocky left him with brain damage, forcing him to retire from boxing. Rocky managed to circumvent this health issue over a decade later in Rocky Balboa, but as he says to Adonis Creed in one of the Creed II trailers about Ivan, "He broke things in me that ain't never been fixed."
As for Ivan Drago, the decades following the events of Rocky IV weren't kind to him, and Creed II will see him trying to regain the glory he lost when he was defeated by Rocky. Initially Dolph Lundgren was hesitant to reprise the character because he didn't want to hurt Ivan's image, but once he read the script, he changed his mind and was re-willing to visit his most iconic role.
As we've learned from the Creed II marketing and interviews, Dolph Lundgren lost everything when he was beaten by Rocky, which included him being thrown out of Russia and his wife divorcing him. All he had left was his son Viktor, who he's trained to be one of the world's best fighters. Through Viktor, Ivan sees a chance to take back what was taken from him, and having Viktor thrown down in fisticuffs against Adonis Creed, the son of the man Ivan killed in the ring, will help make that happen.
Even though Creed II will primarily follow Viktor Drago and Adonis Creed coming to blows, don't think that means we won't get any juicy scenes between Ivan Drago and Rocky Balboa. Later in his interview with THR, Dolph Lundgren recalled shooting the scene where Ivan and Rocky cross paths for the first time in decades and Ivan lays out how his life has been since their match. In Lundgren's words:
There's also been behind-the-scenes footage showing that Rocky and Ivan will get into at least one fist fight during Creed II, so clearly the passage of time has not changed how these to feel about one another. Who can blame them? Ivan killed one of Rocky's closest friends and Ivan sees Rocky as the cause for why he's suffered so much.
Creed II director Steven Caple Jr. also noted that rather than portray Ivan Drago as the "typical bad guy" in the sequel, he wanted people to feel for both him and Viktor by the end of the movie. So while Rocky IV presented Ivan as a villain all the way through, Creed II is grounding the character and making him more sympathetic. Compared to Rocky and Adonis, the Dragos aren't as likable, but at least this sequel will ideally do a good job of getting the audience to understand their side of the story.
Creed II punches its way into theaters tomorrow, November 21, but you can read through CinemaBlend's review of the movie now or check out our roundup of what other outlets thought of it. You can also look through our holiday premiere guide to learn what other remaining movies are on the way before 2018 is over.
Connoisseur of Marvel, DC, Star Wars, John Wick, MonsterVerse and Doctor Who lore. He's aware he looks like Harry Potter and Clark Kent.
Your Daily Blend of Entertainment News
Thank you for signing up to CinemaBlend. You will receive a verification email shortly.
There was a problem. Please refresh the page and try again.