This Rotten Week: Predicting The Mule, Mortal Engines and Spider-Man: Into the Spider-Verse Reviews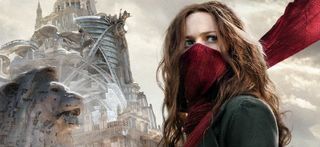 After a week off from widely released films, we return with a geriatric drug runner, cities run amok and multiple web slingers. Get ready for The Mule, Mortal Engines and Spider-Man: Into the Spider-Verse.
Just remember, I'm not reviewing these movies, but rather predicting where they'll end up on the Tomatometer. Let's take a look at what This Rotten Week has to offer.
Based on a true story, Clint Eastwood plays an elderly man (not a reach, dude is 88 after all) who begins a late-life career change into running drugs for the Mexican cartel. This film appears to be a character study, more than anything -- a story about a guy who is desperate to maintain a life and using the ends to justify the financial means. Eastwood looks every bit the part, a grizzled old dude who's chosen a life of crime even if his moral compass is pointing the other way.
Clint Eastwood directs and stars in this one. He hasn't done that since Gran Torino (80%) almost ten years ago. Since then, his directing resume has been up and down with The 15:17 to Paris (24%) Sully (85%) Jersey Boys _(52%) and _J. Edgar (43%) trending more negative than anything else. The trailer for The Mule looks promising, with a darker tone and Eastwood looking every bit of an old man tortured by his actions. I suspect it finishes well with critics.
Imagine a world where we put out cities up on wheels, and those things toured around the world swallowing up smaller cities in a global race for municipal Darwinism. That's the concept of Mortal Engines, based on the book of the same name, which puts forth a world where cities are on the move.
This is a steampunk look at the future in which the world has fallen into a state of post-apocalypse and cities are now rolling around sucking up smaller provinces in a fight for total control and survival. Conceptually, it seems awesome. But it doesn't appear as if they executed well on the story. Early reviews are trending negative. With more than 40 reviews in, the Tomatometer sits at just 38%. Critics seem to agree that the film was a missed opportunity. The concept is so intriguing but the flick gets bogged down in a mundane story.
It really wouldn't seem we could take Spider-Man in new directions after getting the Tobey Maguire version, a little bit of Andrew Garfield and now Tom Holland carrying the torch into the Avengers-verse. But here we go with an animated take on a new world in which multiple Spider-Men (and other genders/ animals/ beings) exist and the whole story is turned on its head. And oh man, does this thing look good. We get a world in which multiple universes worth of Spider-things are all working in conjunction, and it looks hilarious.
Brought to you by Phil Lord and Chris Miller, of the Lego films, and Sony Pictures Animation which, well, hasn't had all that good of a run lately, Spider-Verse is crushing it with the critics, currently sitting at 99% through more than 80 reviews. Only one critic deigned to trend negative. Everyone else is loving the new take on the character. And you can see why. Even from the trailer, the jokes are tight and it's obvious the movie appeals to both kids and adults alike. That's the secret sauce with animated films and this one looks like the perfect mix.
Recapping two weeks ago:
We had a week off from the Rotten Watch, but two weeks ago The Possession of Hannah Grace (Predicted: 25% Actual: 10%) missed out on the prediction. I'll take some solace in the movie being in the basement like I thought it would be, but it still finished outside of the 10% range. Critics panned the hell out of this mess, which seemed rather obvious when watching the trailer. It just looked like your color-by-number exorcism horror story without any new plotlines or revelations brought to the cadaver table. Horror movies are something like a dime a dozen and it really takes a lot to stand out from the crowd. This one only separated itself by how bad it was rated.
We'll be back in two weeks with Mary Poppins Returns, Aquaman, Bumblebee, Second Act and Welcome to Marwen. It's gonna be a Rotten Week!
Doug began writing for CinemaBlend back when Terminator: The Sarah Connor Chronicles actually existed. Since then he's been writing This Rotten Week, predicting RottenTomatoes scores for movies you don't even remember for the better part of a decade. He can be found re-watching The Office for the infinity time.
Your Daily Blend of Entertainment News
Thank you for signing up to CinemaBlend. You will receive a verification email shortly.
There was a problem. Please refresh the page and try again.