Solo's Soundtrack Was Actually Disqualified From Oscar Nominations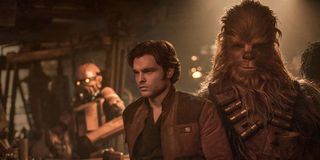 While not every Star Wars movie has always been beloved by fans, there's little argument that the music has been pretty much always amazing. Frequently, the score helps elevate some of the films' weaker material and make it still seem powerful thanks to the amazing work of artists like John Williams. While both fans and critics weren't necessarily in love with the last Star Wars movie, Solo: A Star Wars Story, it could have still made a play for year-end awards in categories like Best Original Score, but the film won't be in the running for even a nomination after being disqualified for, of all things, not submitting the film for consideration in time.
Basically, every musical score for a movie that was released this year can be submitted to the branch of the Academy of Motion Picture Arts and Sciences that handles music. Over 150 different scores are being considered for the coveted five nomination slots that are available. There are a number of reasons that a score might be disqualified for consideration and there are always a few that are.
Variety reports that several movies are apparently not having their score considered for the coveted Oscar award. Solo: A Star Wars Story, whose score was written by John Powell, with contributions from John Williams, apparently missed the November 15 submission deadline, which is a fairly unfortunate way to keep from being considered. Somebody at Lucasfilm is probably getting the side eye for that move. Perhaps there was some confusion regarding who was supposed to submit the film in that category or it was simply a last minute decision to submit it at all.
A few other notable films have also been disqualified or were never actually submitted include the Nicolas Cage thriller Mandy, which was released on video-on-demand before it completed a qualifying theatrical run, meaning it can't be considered for the Academy Awards at all and was never submitted.
Orson Welles final film, The Other Side of the Wind, which was finally completed and released by Netflix this year, was rejected because the majority of the soundtrack is actually pre-existing licensed music. Only about 40 minutes of Michel Legrand's score is actually in the film, though he composed more.
One movie that is expected to compete for several Oscars next year, Green Book, won't be competing in the Best Original Score category because the score by Kris Bowers heavily features elements of music by the Don Shirley Trio, the character played by Mahershala Ali in the film, and thus doesn't qualify as an "original" score.
Every entry in the original Star Wars trilogy and the current trilogy received a nomination for Best Original Score, so Star Wars films have a solid history in this category. Solo: A Star Wars Story certainly wasn't a shoo-in, but one has to guess it would have had a better chance of being nominated here than pretty much any other category.
We'll see who's still in the running when shortlists are announced December 17.
CinemaBlend's resident theme park junkie and amateur Disney historian. Armchair Imagineer. Epcot Stan. Future Club 33 Member.
Your Daily Blend of Entertainment News
Thank you for signing up to CinemaBlend. You will receive a verification email shortly.
There was a problem. Please refresh the page and try again.