Why Andy Serkis' Mowgli Deserved A Proper Theatrical Release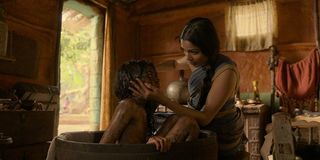 This past weekend, Netflix debuted Mowgli: Legend of the Jungle for all of its subscribers to see. While the film has been a bit of a mixed bag when it comes to critical response, the film is undoubtedly a spectacle that would have been best seen on a big screen. One could even say that, if given a proper theatrical release, Mowgli: Legend of the Jungle could have been the blockbuster that put Netflix on the theatrical circuit's map.
Director and co-star Andy Serkis delivered a more mature, but still spectacle-filled, version of The Jungle Book mythos that audiences seem to be enjoying, if the scores on sites like IMDB and Rotten Tomatoes are any indication. So clearly, there's something that the viewing public has seen in the film's charms. However, audience reaction is only a small part of why Mowgli: Legend of the Jungle deserved the larger, theatrical approach it was intended for, before its acquisition.
While the film was bought by Netflix from its original production / distribution party, Warner Bros Pictures, the film has only gotten a small release in some independent theater chains. On the surface level, the film's visual and thematic splash would be a larger than life experience that could have started December with a big studio picture. However, looking closer at both the circumstances surrounding the film's release, as well as the film itself, Mowgli: Legend of the Jungle had a strong potential to be a breakout theatrical hit for Netflix.
The fact that Mowgli: Legend of the Jungle's release date of last Friday saw no new films released by a major studio would also have been a boost. The big hits from this past November are slowing down in their performance. Once Upon A Deadpool is ready to make its bid for box office glory. It might only be a week, but with the money that Netflix put into the acquisition of the film, Warner Bros might have seen an impressive return from opening on such a barren weekend.
Now some might cite the concern of internal competition as an excuse for Mowgli: Legend of the Jungle to not be released into theaters within the same two week period where Warner Bros. is set to drop Aquaman on the world. However, let's not forget the studio's success this past August with two films opening a mere five days apart. Both The Meg and Crazy Rich Asians opened domestically within a small gap of one another, and those films went on to be quite lucrative successes for the studio.
Another factor that should have seen Mowgli: Legend of the Jungle make an easy theatrical release was the fact that the film was designed to be a big deal in terms of a 3D release. While the man cub would have to obviously cede some 3D real estate to the king of Atlantis, the film might have still had legs in its reduced capacity. It's true that the film is currently enjoying its extremely limited release platform in theaters, which is better than nothing. But the only problem with that is the fact that it's exclusively outside of the major theatrical distributors,.
A slow weekend devoid of major studio muscle, plus strong support of 3D presentations during its exhibition, could have spelt big time success for Netflix and Mowgli: Legend of the Jungle. After having seen the film, you can tell that it was designed with the sort of eye-popping thrills that most 3D conversions lack.
All of these factors lead back to the big problem with Netflix's current theatrical release strategy. While the studio is definitely making inroads with theaters, and slowly expanding the scope of releasing big ticket films like The Ballad of Buster Scruggs, Roma and Bird Box into indie chains and art house theaters, the major theater companies still haven't shook and made up with the big red envelope. There's real momentum in the conversations between Netflix and the theater chains to get more of these movies into actual cinemas, and we think that in time, there will be a system in place where more Netflix movies get theatrical distribution. Plus, If Netflix had stuck to the original plan of a 2019 release date, negotiations could have been underway to change that distribution model. It has to happen!
With enough time, and a movie like Mowgli: The Legend of the Jungle in their canon, Netflix could have had the right movie to break with tradition and become a full blown theatrical exhibitor. It's even more baffling that the studio didn't take that chance to play the long game, when the world was expecting the film to be released at some point in 2019. Once its October 2018 release date was yanked from the schedule, the film could have been given more of a chance to succeed theatrically.
Though their strategy of releasing films still seems to depend on the element of surprise, the lead time that Mowgli: Legend of the Jungle could have had leading up to any sort of 2019 release date would have given Netflix plenty of time to mount a full marketing campaign pitching the film far and wide. Even better, the problem of bad blood between the company and its theatrical distribution counterparts could have been solved in such a gap.
While Mowgli: Legend of the Jungle does have a rather large and accessible platform to be viewed by all who choose to, there's an unshakable feeling that this could have been Netflix's first breakout blockbuster. Such a victory could have put them ahead of all other streaming service production shingles, who have mostly been focused on playing the game of prestige films.
Shifting Mowgli: Legend of the Jungle to Netflix's personal streaming library after its removal from the October release calendar seems like it was a decision made to keep the film's momentum up, and it worked. Basically. The truth has always been that the appetite for the film was barely stoked with the public, even when it was at Warner Bros. With a full delay into 2019 already in the cards, the stewards of the property should have taken that time to revise their own release strategy, mend some fences with the big wheels of the theatrical industry, and put themselves on a better path to releasing select films through a more traditional theatrical release.
Mowgli: Legend of the Jungle is a good enough film that, quite honestly, would have been worth the wait to find it a proper theatrical home, with a full 3D rollout. As it stands, you can currently find it on Netflix's streaming lineup.
Your Daily Blend of Entertainment News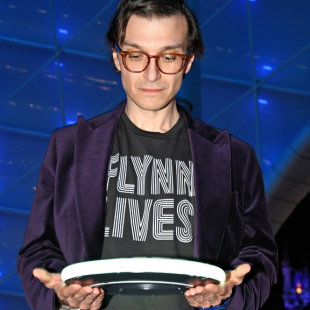 Senior Movies Contributor
CinemaBlend's James Bond (expert). Also versed in Large Scale Aggressors, time travel, and Guillermo del Toro. He fights for The User.