5 Reasons Why The Meg Overperformed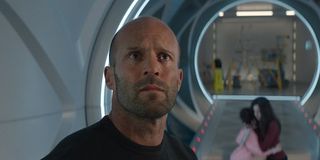 As many moviegoers already know, August can become a bit of a dead period when the high of May, June and July ends in the summer blockbuster season. That tends to leave room for one or two sleeper hits to sneak in and win the box office, and this year it looks like Jon Turtletaub's The Meg is the August film to beat (at least so far). In fact, the shark movie isn't just a box office success in its first weekend; it downright blew away expectations.
With that in mind and an incredibly impressive $45 million domestic opening in the bank, it's time to dive into the aquatic monster movie to figure out what went right to allow The Meg to overperform. We have several different points to address, so let's get started with the film's accessible rating.
The PG-13 Rating Casts A Wide Net
It's hardly a secret that the PG-13 rating arguably casts the widest possible net for an audience these days. Intense enough that it appeals to the adults, while still tame enough to remain entertaining to a reasonably young viewer, PG-13 monster movies like The Meg have something for just about everyone, which means that moviegoers of nearly all ages can come along for the ride. There is obviously a strong case to be made that a movie like The Meg would've been improved with an R-rating to up the violence and gore caused by the titular shark, but that does not change the fact that keeping the film slightly tamer created a movie that more people could see -- which ultimately helped the Warner Bros. bottom line.
The Cast Is Marketable
Though Jason Statham arguably is not quite up to the level of someone like Dwayne Johnson in terms of box office star power, he's still an incredibly bankable action hero who has opened some of his biggest movies over the course of the last few years. He alone has international appeal, but The Meg is also boosted by strong supporting performances by actors like Ruby Rose, Rainn Wilson and Li Bingbing. Add strong supporting turns from characters actors like Cliff Curtis and Masi Oka, and The Meg stands out as a movie with a consistently reliable ensemble that directly appeals to a more global audience than the average blockbuster we see come out of Hollywood these days.
The Premise Is Simple And Easy To Get Behind
The Meg is not a particularly complicated movie in terms of the ideas that it attempts to get across to the audience. It's about a group of humans facing off against a seemingly insurmountable monster from the depths of the ocean, and by its design, it doesn't really attempt to do much more than that. Sure, the odds of it winning Best Picture don't seem particularly great, but that doesn't change the fact that a simple premise like that crosses language barriers and sells in most countries around the world. The Meg is a movie that largely works because of its action direction and its scares, so it doesn't require much translation or cultural context to work for the audience.
Horror Is Hot Right Now
To be specific, this type of high-concept horror that can cross cultural barriers. Though The Meg and A Quiet Place are two very different movies, they are actually cut from the same cloth in the sense that they are well-executed monster romps centered on very simple premises. John Krasinski's masterful, near-silent thriller opened the year and showed horror's continued box office dominance, and The Meg is very much carrying on that legacy by rounding out the summer season. From Hereditary to Insidious: The Last Key, most forms of horror have proven profitable over the course of the last few years, and while The Meg is arguably a far tamer form of horror, it's still horror nonetheless.
This Summer Hasn't Had Many "Summer" Movies
Make no mistake, there have been some great summer blockbusters this year, including films like Avengers: Infinity War and Mission: Impossible -- Fallout. That said, there has still been a notable lack of the traditional summer films -- the Steven Spielberg-esque blockbusters like Jaws and Jurassic Park that appeal to the entire family and make people want to cool off in a dark movie theater. The Meg arguably feels very old-fashioned in that sense, and it offers up an almost nostalgic monster movie adventure that feels more like something out of the 1990s than the bigger and darker movies that tend to debut in the modern summer season. Never underestimate the power of nostalgia, because this movie is dripping with it.
Your Daily Blend of Entertainment News
Originally from Connecticut, Conner grew up in San Diego and graduated from Chapman University in 2014. He now lives in Los Angeles working in and around the entertainment industry and can mostly be found binging horror movies and chugging coffee.