To 3D Or Not To 3D: Buy The Right Aquaman Ticket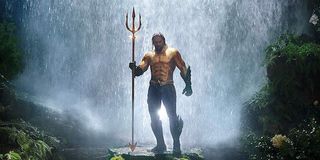 Having first cameoed in Batman v Superman: Dawn of Justice and later making his full DC Extended Universe debut in Justice League, Jason Momoa's Aquaman is back on the big screen this week for, you guessed it, Aquaman. Director James Wan took the reins of Arthur Curry's first cinematic, standalone adventure, and in addition to further proving how formidable and badass the hero is, Aquaman is also giving us our first comprehensive look at Atlantis and the other underwater societies of the DCEU's Earth. But one thing Aquaman does have with other DCEU movies is that it's being displayed in 3D.
If you're curious about Aquaman's quality as a movie overall, I'd recommend you read CinemaBlend's review. Here, we're just going over how effectively the sixth DCEU installment makes use of its 3D technology. Needless to say that this is a stacked theatrical week, as fellow new releases like Bumblebee and Mary Poppins Returns, as well as movies that have already been out for a bit like Spider-Man: Into the Spider-Verse, are all competing for your attention. So if you are planning to see Aquaman, is it worth shelling out a few extra dollars for the 3D experience? Read ahead before making your final decision!
3D Fit Score: 5/5
We've come to expect 3D presentations for nearly all superhero movies, but Aquaman is definitely among the most deserving. From action-packed moments like Arthur and his half-brother Orm engaged in gladiatorial combat over a lava pit or Black Manta and his goons attacking Arthur and Mera in Sicily, there are a lot of eye-catching moments in Aquaman. Obviously you can still enjoy Aquaman's visuals on a standard 2D screen, but the movie is quite worthy of the 3D format, especially when it comes to being more immersed in Atlantis and the other underwater kingdoms.
Planning & Effort Score: 5/5
With a movie so deserving of being displayed in 3D, you'd hope that the filmmakers would spend a lot of time ensuring that the 3D elements were incorporated seamlessly, and thankfully, Aquaman delivered on that front. As opposed to feeling tacked on and unnatural, the 3D-formatted shots feel organic, as if you're sitting right next to the main players as the action unfolds. Even when Aquaman calms down and becomes more introspective, the characters never appear like they're artificial. There are a scattering of instances where the 3D elements just weren't noticeable, but these in no way detract from the overall experience.
Before the Window Score: 5/5
When one thinks of a 3D movie, the first thought that usually comes to mind is objects on the screen "jumping out" at you, and Aquaman handles this aspect excellently. The movie has a unique space to play around with things like depth perception, and whether we're watching events on land or underwater, it's definitely noticeable rather than happening too fast or subtle to make any noticeable impact. The depth perception element is handled particularly well during slow motion sequences, like when Orm is dodging Arthur's trident during their first fight or when water droplets are frozen in midair.
Beyond the Window Score: 4/5
Seeing objects appear to jump out from the screen is cool, but a lot of work also needs to be poured into the environments, i.e. the background. In Aquaman's case, because Atlantis and the other strange underwater locales were constructed from scratch, that allowed more freedom with controlling the focus of the visuals, and as a result, these alien-like environments feel immense in 3D. As far as the land scenes go, the depth shines best when Arthur and Mera are traversing the Sahara. That said, there are some scenes in Aquaman where there is so much busyness that it leads to some background blurriness, so that knocks down this category's score down a bit.
Brightness Score: 5/5
When you're wearing 3D glasses, there's going to be some diminishing brightness. Fortunately, Aquaman is the DCEU's brightest film yet, and I'm not talking about tone. The dazzling colors and lights of the movie can be appreciated in a normal screening, but you can tell that those involved in the 3D process put in the time and effort to make sure that they could still pop out even with some obscuration. Lack of brightness is rarely an issue, even, ironically, in darker scenes. For example, when Arthur, Mera and Thomas Curry are caught in that tidal wave hitting the coast, it's still easy to make out what's happening.
Glasses Off Score: 5/5
You can tell how much 3D a movie is using by repeatedly removing your glasses during the feature presentation and seeing how much blur there is. More blurriness means there's been a lot of image manipulation, and Aquaman has that consistently throughout the movie. Even in scenes when you wouldn't expect any 3D to be infused, like when Thomas Curry and Atlanna are talking to each other for the first time in Thomas' humble abode, there's still a slight blurry effect. Granted, you won't want to watch Aquaman this way for too long, but it just goes to show that those handling the 3D were quite thorough.
Audience Health Score: 4/5
Everyone reacts differently to a 3D movies, and some people are more prone to feeling queasy or generally uneasy. While Aquaman does a good job for the most part of ensuring that its action sequences aren't too disorienting in 3D form, there were a few times when I had to take off the glasses or look away for a second or two because my eyes felt too strained. I doubt that Aquaman will cause anyone to get straight up sick, but it is possible that some of you might feel some discomfort.
If you intend on seeing Aquaman in theaters, it's definitely worth paying a little extra for the 3D experience. You can tell that a lot of work went into ensuring that the 3D conversion on the DC movie looked as natural as possible. Yes, there are a few minor issues, and Aquaman can still be appreciated in the standard 2D format, but in 3D, the underwater realms become more stunning and the action-packed sequences become more thrilling. I'd even recommend setting down even more money to checking out Aquaman in IMAX 3D, making it the ultimate visual treat.
This poll is no longer available.
Be sure to visit our full To 3D Or Not To 3D Archive.
Connoisseur of Marvel, DC, Star Wars, John Wick, MonsterVerse and Doctor Who lore. He's aware he looks like Harry Potter and Clark Kent.
Your Daily Blend of Entertainment News
Thank you for signing up to CinemaBlend. You will receive a verification email shortly.
There was a problem. Please refresh the page and try again.