Jude Law's Captain Marvel Role Confirmed By Marvel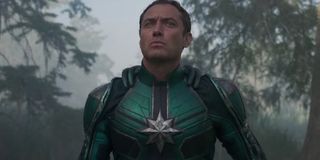 With just three months to go until Captain Marvel arrives, we know a fair amount about the 1995-set story. However, one of the biggest mysteries still lingering around the penultimate Phase 3 movie is who Jude Law is playing. Originally he was expected to be playing Mar-Vell, but then word came out that he was actually playing Yon-Rogg. Well, the matter has finally been settled once and for all: Law was tapped to play the Marvel Cinematic Universe's version of Mar-Vell.
This confirmation comes straight from the Disney Movies website in a slideshow presentation of some Captain Marvel stills. It doesn't get more official than that. This means that unless there's some weird identity shenanigans going on where Law's character goes by both Mar-Vell and Yon-Rogg, don't count on hearing the latter name. But hey, that wouldn't be the weirdest thing to happen in the MCU, and keep in mind that even if Law is solely going by Mar-Vell in Captain Marvel, that doesn't mean he'll be closely resemble his comic book counterpart.
When Jude Law was first reported to being eyed for Captain Marvel, it was said he would play Mar-Vell, which made sense. Mar-Vell, a Kree warrior and the first character in the Marvel Comics mythology to go by Captain Marvel, was directly involved in Carol Danvers' origin story, so it'd be understandable for her movie to throw him into the mix. Still, even when Marvel started releasing more in-depth plot details about Captain Marvel a few months back, the studio remained quiet about the identity of Law's character.
Then last month, images of the Captain Marvel Funko Pop! Vinyl line were leaked online, and the figure for Jude Law's character was labeled as Yon-Rogg. A Kree military commander, Yon-Rogg was Mar-Vell's chief adversary from his earliest comic book appearances and he was also involved in Carol Danvers gaining superpowers. It had also been previously rumored that Yon-Rogg would appear in Captain Marvel, though it was originally assumed that Ben Mendelsohn would play that role, and we now know he's playing Skrull leader Talos. Still, when those same Funko images were officially released, the Law figure was labeled as 'Star Commander,' so the mystery of Law's character persisted... until now.
Here's what we know so far about Jude Law's version of Mar-Vell: he's the leader of the elite Kree military team known as Starforce and has become Carol Danvers' mentor. Law has also said that Mar-Vell is driven by "a belief in the divine leadership of the Kree people." Beyond that, we don't know specifically how he fits into the story. Maybe he remains a benevolent figure like he is in the comics, or maybe in this continuity he takes a villainous turn. If the latter is a legitimate possibility, maybe this version of Mar-Vell also has some Yon-Rogg elements mixed into his characterization. After all, Iron Man 2's version of Whiplash was an amalgam of that character of the same name and Crimson Dynamo.
Captain Marvel flies into theaters on March 8, 2019, so keep checking back with CinemaBlend for more updates about the movie. For those curious about what other movies are coming out next year, look through our 2019 release schedule.
Your Daily Blend of Entertainment News
Connoisseur of Marvel, DC, Star Wars, John Wick, MonsterVerse and Doctor Who lore. He's aware he looks like Harry Potter and Clark Kent.