Carol Danvers' Kree Name In Captain Marvel Has Been Confirmed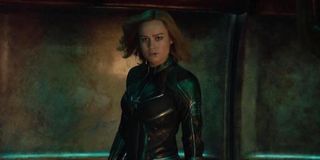 Although Captain Marvel is an origin story for Brie Larson's Carol Danvers, the movie isn't unfolding they way you'd expect from a standard origin story. When Captain Marvel begins, Carol is already serving the Kree empire, and as the movie unfolds, she'll learn about her past life on Earth. But since she believes herself to be a Kree, Carol isn't being called 'Carol' during her time on Starforce, the elite group of Kree warriors. As a Kree, she's called Vers.
This has been confirmed through a description for an upcoming middle-grade novel called Captain Marvel: Starforce on the Rise. The synopsis explains that before Carol Danvers started using the Captain Marvel moniker, she was known as Vers. The book will explore Carol, sorry, Vers going on a "key adventure" for Starforce, giving readers young and old alike a taste of what the future Captain Marvel's life was like fighting for an alien military.
While it's good to finally have confirmation about Carol Danvers' Kree identity, this doesn't come as a complete surprise. Last week, Funko officially unveiled its line of Captain Marvel Pop! figures, and the GameStop exclusive one, which depicts Carol in her Binary form (i.e. wearing her helmet and rocking the mohawk) is labeled 'Vers.' A couple days later, the new Captain Marvel trailer dropped, and there was an intriguing shot of Carol holding a destroyed portion of her dog tags.
Although this moment looks to be taking place during Carol Danvers' investigation into her true identity upon returning to Earth, it's likely that the dog tag was destroyed during the accident that cause her to lose her memory. In case you can't read it, it says 'Carol Dan,' so one can surmise that the 'Vers' portion stayed on Carol's person when she was taken to Hala, the Kree homeworld. If that was the only piece of identifying information on her, then it would make sense why that became her Kree name.
Of course, Vers will eventually discover the truth and learn that she's actually Carol Danvers, an ex-United States Air Force pilot. As revealed in the recent Captain Marvel trailer, she was turned into a half-Kree after her accident by Annette Bening's still-unidentified scientist character. The result was her becoming stronger, living longer and being altogether superior. The tradeoff was Vers using these abilities in service of the Kree empire.
Along with uncovering her past life, Captain Marvel will also see Carol/Vers getting caught in the middle of the long-running conflict between the Kree and the shapeshifting Skrulls, the latter of which have already invaded Earth and are being led by Ben Mendelsohn's Talos. Fortunately, Carol won't be entirely without help, as she'll join forces with Nick Fury, who, in 1995, still has two working eyes and is a low-level bureaucrat rather than the master planner (or manipulator, if you prefer) we know in the present day.
Captain Marvel flies into theaters on March 8, 2019. As for what other movies are coming out next year, scan through our 2019 release schedule for that information.
Your Daily Blend of Entertainment News
Connoisseur of Marvel, DC, Star Wars, John Wick, MonsterVerse and Doctor Who lore. He's aware he looks like Harry Potter and Clark Kent.