Why Aquaman 2 Could Spell Bad News For Arthur Curry's Father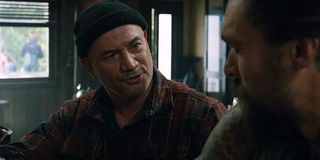 Warning: MAJOR SPOILERS for Aquaman are ahead!
Although he's best known for playing Jango Fett and the bounty hunter's countless clones in the Star Wars universe, actor Temuera Morrison has also contributed twice in the DC Comics movies realm. First he played Abin Sur in 2011's Green Lantern, and now we're seeing him as Thomas Curry, Arthur Curry's human father, in Aquaman. Unlike his comic book counterpart, Morrison's Thomas is still alive as his son pulls double duty as superhero and king of Atlantis, but because of Arthur's actions towards Black Manta in Aquaman, we fear that Thomas will meet his demise when Aquaman 2 rolls around.
Anyone remotely familiar with DC Comics mythology knows that it's peppered with dead parents, and in the comics, Arthur Curry is no exception, having entered adulthood without his mother or father. Granted, in the current DC continuity, Arthur learned as an adult that his mother, Atlanna, had actually faked her death and was still alive in a different dimension, but sadly, Thomas is indeed dead, and Black Manta played a role in his passing.
During Geoff Johns' Aquaman run, it was revealed that Thomas Curry had turned to Dr. Stephen Shin, a marine biologist, for help when Arthur Curry's abilities started manifesting. Shin was indeed helpful with teaching Arthur how to control his powers, but when Stephen wanted to go public with what Arthur was capable of, believing that it was the next logical step towards discovering the location of Atlantis, Thomas became angry and destroyed all of Stephen's research about his son.
Enraged, Stephen Shin shared what he'd learned about Arthur Curry to the world anyway, but few people believed him. Requiring further evidence, Stephen hired Black Manta to steal a sample of Arthur's blood, but Thomas came face-to-face with the helmeted villain during the home invasion, and while trying to protect his son, he suffered a heart attack. Thomas died days later, and while Black Manta didn't directly kill Arthur's father, he was certainly indirectly responsible.
This is a sad story, but it doesn't end there. Swearing revenge on the day of Thomas' funeral, Arthur Curry found the boat where Black Manta was hiding out, and with the rain and darkness obscuring his vision, he believed he'd killed his father's murderer. But it was actually Black Manta's own father who Arthur had killed, and Black Manta caught him in the act. And thus these two men became arch-nemeses.
Obviously this is not how events played out in Aquaman. Thomas lived on to see his son become a superhero, and at the start of Aquaman, he was still spending his days tending to the lighthouse, drinking at the local tavern and still visit the dock everyday to see if Atlanna returned to him. However, Jason Momoa's Arthur was still somewhat responsible for Black Manta's father, Jesse Kane, dying, because rather than free the mercenary when he was pinned down by some wreckage aboard the Russian nuclear submarine, Arthur left him to his fate because he and his pirate crew had killed so many people. Rather than drown, Jesse opted commit suicide via explosives, but not before telling David to kill Arthur in retaliation.
David attempted to do just that, as he was later recruited by Orm to neutralize Arthur and Mera in Sicily. Now armed with Atlantean technology, David made the full transition into Black Manta and nearly succeeded in eliminating his father's killer, but his new firepower still wasn't enough, and he was tossed off a cliff and believed to have died. The Aquaman mid-credits scene showed that Black Manta had actually been rescued by Dr. Stephen Shin, and he agreed to show Stephen where Atlantis is in exchange for helping him seeking revenge against Arthur. Just like in the comics, Yahya Abdul-Mateen II's Black Manta does not let go of grudges easily.
Aquaman was clearly setting up Black Manta and Dr. Stephen Shin to be Aquaman 2's main antagonists. I previously speculated on how the N.E.M.O. organization could be used to make these two even bigger threats, but if there's one thing that Black Manta hasn't had issue with in the comics, it's inflicting pain on Aquaman, both physical and emotional. In the pre-New 52 continuity, he went so far as to kill Arthur's infant son, so it's hardly a stretch to imagine he'd kill Thomas Curry in the DC Extended Universe.
At the end of Aquaman, Thomas finally reunited with Atlanna, so while Arthur is now ruling Atlantis, presumably his parents have stayed at their humble lighthouse abode. It'll significantly less difficult for Black Manta to target them than it would be for him to get anywhere near Arthur in Atlantis, and although Atlanna can hold her own in a fight, Thomas would be severely outmatched. Even with Atlanna protecting Thomas, Black Manta could find an opening to snuff out his adversary's father instantly.
If Thomas Curry does die in Aquaman 2, needless to say that would deal a major blow to Arthur Curry and almost certainly lead him to venture out solo and seek vengeance against Black Manta. Once Aquaman is alone and away from Atlantean soldiers, that paves the way for Black Manta to initiate Round 3, this time with even more firepower on his side and the advantage of being clear-headed and focused while his opponent is blinded by rage.
Since Aquaman is the only current DCEU Justice Leaguer to have both parents, it's possible that the creative minds behind the franchise will want to keep it that way for Aquaman 2. Nevertheless, Thomas Curry's fate in the comics means that his chances of survival dwindle the longer Black Manta is around, and Black Manta still needs to do something to claim the title of Aquaman's Greatest Villain, which currently belongs to Orm, a.k.a. Ocean Master. Murdering Thomas would certainly go a long way towards making that happen.
Aquaman is now playing in theaters. Don't forget to read CinemaBlend's review of the movie and keep checking back with us on any information regarding Aquaman 2. You can also find out what else is in development for the DCEU by checking out our handy guide.
Connoisseur of Marvel, DC, Star Wars, John Wick, MonsterVerse and Doctor Who lore. He's aware he looks like Harry Potter and Clark Kent.
Your Daily Blend of Entertainment News
Thank you for signing up to CinemaBlend. You will receive a verification email shortly.
There was a problem. Please refresh the page and try again.