One Particular Part Of Vice Adam McKay Wishes He Didn't Have To Leave Out Of The Movie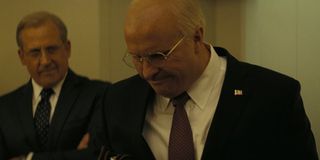 Adam McKay's Vice is a film that is massive in its scope. While there are many biopics that choose to cover their subjects by highlighting one particularly notable event that sums up the person's life, the Dick Cheney movie covers decades that the politician spent in Washington. Taking this approach was always going to mean leaving certain details on the cutting room floor, but for McKay, one part of the story he wish he could have kept in was Cheney's impact when it came to protecting (or more accurately, not protecting) the environment:
Every film has to kill certain darlings as they make their way through development, and Vice was no exception. The movie does a great job serving as both an expose and a highlight reel -- shining lights in dark places, and also hitting on all the huge events everybody remembers -- and squeezing all of that material in required some cuts. For Adam McKay, who I had the chance to sit down with last month prior to the release of the biopic, it was apparently the global warming material in particular that he wishes he didn't have to remove, especially because of world events and revelations that we've seen/heard about in the months since production.
Of course, it should be noted that the movie definitely does touch on Dick Cheney's record with the environment -- it apparently just doesn't go as far with it as it could. As Adam McKay notes, there is still a sequence where the solar panels at the White House, installed by the Jimmy Carter administration, are removed when Ronald Reagan takes office, but that's not all. The film also goes into detail on how the conversation around the issue was completely changed specifically by Cheney and his people by using certain kinds of spin, like getting the public and media to call it "Climate Change" instead of "Global Warming."
This is obviously a significant part of the story in terms of the lasting impact of Dick Cheney's political career, but it's also apparently one of many things that couldn't be fully addressed in Vice because of the inherent storytelling limitations present in narrative filmmaking. Adam McKay cited global warming as something he wished he didn't have to cut when I specifically asked him for an example, but he began his answer by saying there's a good 45 minutes of extra content that existed in early cuts of the movie that had to be whittled out over the course of post-production.
At the same time, however, the filmmaker discovered that there was a certain art to telling the life story of Dick Cheney, specifically because the man has done so much to try and stop his story from being told in this fashion. Vice was certainly created to shine a light on one of the most significant political figures of the last fifty years, but it also had to mold itself to fit its unusual subject. McKay explained,
Fortunately, anything that didn't get the chance to be fully covered in Vice is still out there in the world, and any interested individual can now start doing their own personal dig into the man-shaped mystery known as Dick Cheney. What's brought to life through Christian Bale's performance was never going to be the entire story, but for those fascinated by the subject matter it can definitely be a starting place.
One person who was certainly left fascinated by the Vice experience is Adam McKay himself, who admitted during my interview that he has a certain respect for what the man did -- even while recognizing the horrific consequences of a lot of it. Dick Cheney, unlike anyone else in history, is a person who figured out how to play the United States government like a musical instrument, and the intelligence required to pull off something like that is unquestionably rare and impressive. Said McKay,
Click play on the video below to watch Adam McKay discuss killing darlings for Vice, including the global warming material that didn't make the finished cut:
Based on an original screenplay by Adam McKay and starring Christian Bale, Amy Adams, Sam Rockwell, Steve Carell, Jesse Plemons, Tyler Perry, and more, Vice is now playing in theaters everywhere in wide release. We're sure to continue hearing a lot more about it as we get deeper into awards season, so stay tuned for all of that, and to take a look ahead at what else is going to be hitting the big screen in the coming months be sure to check out our 2019 movie release schedule.
Your Daily Blend of Entertainment News
Assistant Managing Editor
NJ native who calls LA home and lives in a Dreamatorium. A decade-plus CinemaBlend veteran who is endlessly enthusiastic about the career he's dreamt of since seventh grade.