Avengers: Endgame Super Bowl Trailer Might Have Shot Down A Popular Rumor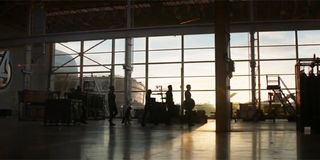 Released back in early December 2018, the first Avengers: Endgame trailer arrived jam packed with a shocking revelation regarding the whereabouts of Tony Stark. At the end of Avengers: Infinity War he was left stranded on Titan along with Nebula, and while it was assumed he would be able to get back to Earth fairly easily, the first piece of marketing for the upcoming Marvel title proved differently – with Tony ready to die in a ship floating through space with dwindling resources.
The assumption at large is that Tony will somehow be rescued, the real question being how, but the situation has also inspired some extra fan speculation. Specifically, given the evidence presented it was pondered that perhaps Nebula straight-up abandoned Tony following The Decimation on Titan, leaving him to fend for himself and find his own way home. That was a reasonable thought at the time, but the new Super Bowl spot for Avengers: Endgame does a pretty good job dismissing that theory.
It's incredibly brief – perhaps maybe a grand total of one second – but the evidence I'm referring to is the screenshot you see above. Obviously we don't have any larger context for what we're seeing, and it's possible that this moment comes from action in the third act of the movie (hence the "Might" in the headline), but what it certainly looks like is Tony and Nebula working together inside of a spaceship – possibly with the intention of using it to travel back to Earth.
It was easy to believe that Nebula would abandon Tony in Avengers: Endgame given that she does have some pretty significant history as a villain, but this new footage suggests a different avenue – and one that might even paint the blue, bald cyborg as a much better person. Knowing that Tony wants to get his own revenge against Thanos, they could both get on The Benatar (the Guardians ship), but run into technical complications along the way. This could leave them to be stranded in space together, but Nebula goes off in an attempt to find help, being much more familiar with the cosmos than Tony. Unfortunately, it could be that she is gone long enough that Tony starts thinking about what he wants to be his final words to Pepper Potts.
This idea obviously branches into a whole lot of other questions – like "Where did Nebula go," "How exactly did she get there?" and "Did she ever really plan to return?" – but, again, we don't have very much to go on here. At the very least what we do know is that Nebula doesn't just immediately turn her back on her fellow Decimation survivor, and that there will be at least one moment in Avengers: Endgame where the two heroes are seen working side-by-side.
We still have a few months to wait until the blockbuster arrives in theaters and fans finally get answers to all the existing burning questions – but it's possible that our next clue could arrive online in about a month. Logic would dictate that our next look at Avengers: Endgame will come in the form of a second full trailer attached to Captain Marvel – and while one could imagine that preview will let us see Brie Larson meet some of Earth's Mightiest Heroes, it might also give us a little more to go on when it comes to the situation with Tony Stark.
If you haven't already watched the Avengers: Endgame Super Bowl spot 10,000 times, do yourself a favor and just keep hitting play on the video above. Beyond that, the film will be arriving in theaters everywhere on April 26th, and we'll have plenty more coverage coming your way here on CinemaBlend.
NJ native who calls LA home; lives in a Dreamatorium. A decade-plus CinemaBlend veteran; endlessly enthusiastic about the career he's dreamt of since seventh grade.
Your Daily Blend of Entertainment News
Thank you for signing up to CinemaBlend. You will receive a verification email shortly.
There was a problem. Please refresh the page and try again.