Avengers: Endgame Super Bowl Trailer Brings The Survivors Together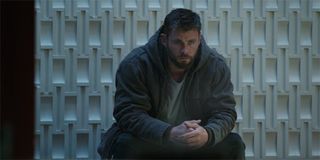 Marvel Studios has been insanely stingy when it comes to releasing new footage from Avengers: Endgame, having only released one trailer since Avengers: Infinity War dropped in theaters last April... but now we finally have a new taste of this summer's upcoming blockbuster. A brand new spot was just shown during the Super Bowl, and you can check it out in all its awesomeness below!
It's not entirely clear exactly how long after Avengers: Infinity War that Avengers: Endgame is set, but what is clear is that there has been enough time for people to come to terms with the terribleness that happened after Thanos' snap - known in the Marvel Cinematic Universe as The Decimation. There are clearly still plenty of disaster zones, likely caused by individuals operating heavy machinery and vehicles at the time of dusting, and there are support groups where people can come together to talk about their personal journeys and grief.
But while there are many in the world who can try and make peace and move on, that is not a group that includes Earth's Mightiest Heroes - who must unite and work together so that they can try and fix existence. We still have absolutely no idea exactly how they are going to get that done, but all the same it's still amazing to see the silhouette of Bradley Cooper's Rocket and Paul Rudd's Scott Lang alongside the likes of Chris Evans' Captain America, Scarlett Johansson's Black Widow, and Don Cheadle's War Machine.
Also, while it's not exactly a huge plot point, it is interesting to point out that this trailer also gives us our first look at Captain America wearing his iconic shield in Avengers: Endgame. The hero has not been using the star-spangled bit of Vibranium since the events of Captain America: Civil War when he gave it up after his fight with Robert Downey Jr.'s Iron Man. It's not entirely clear how he's going to get it back in the new film - whether it's a new one made using the resources in Wakanda, or the old one - but it's a question to which we're excited to learn the answer on the big screen.
Lastly, we also now have another intriguing detail in regards to the plight of Iron Man - who we saw in the first Avengers: Endgame floating through space ready to die. At the time it was pondered by fans that Karen Gillan's Nebula perhaps abandoned him on Titan after being the only two left alive, however, this trailer clearly shows them working together. Of course, this now leaves us with a lot more questions, the biggest of which is 'Then what happened to Nebula?' but, again, we don't expect that everything we want to know is going to be revealed in the marketing.
As far as the Marvel Cinematic Universe goes, we are still waiting to see Captain Marvel hit the big screen in March, but Avengers: Endgame will be here soon enough - set to drop in theaters on April 26th. You can be sure that we will be posting pretty much every look at the movie we get between now and then, so keep checking in here on CinemaBlend.
Your Daily Blend of Entertainment News
Assistant Managing Editor
NJ native who calls LA home and lives in a Dreamatorium. A decade-plus CinemaBlend veteran who is endlessly enthusiastic about the career he's dreamt of since seventh grade.
Your Daily Blend of Entertainment News
Thank you for signing up to CinemaBlend. You will receive a verification email shortly.
There was a problem. Please refresh the page and try again.