Why A Batman Beyond Movie Is Still A Good Idea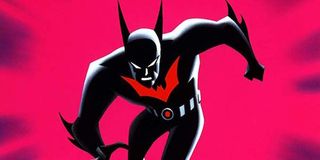 When one thinks of legendary DC Comics hero Batman, naturally who comes to mind is Bruce Wayne, the first individual to don the mantle of the Caped Crusader. Many actors have put their own stamp on the character over the decades, and it was recently announced that with Ben Affleck stepping down for the role, a younger, but still well-known actor, will succeed him for Matt Reeves' The Batman. However, Bruce isn't the only person to go by Batman in DC's mythology.
One of the other popular characters to wear the mask is Terry McGinnis, star of the animated series Batman Beyond. It was recently rumored that a Batman Beyond animated movie in the works, although that rumor has since been shot down. Regardless, Warner Bros would be smart to make a Batman Beyond movie, whether it's live action or animated, because it can put the legend of the Dark Knight through a fresh lens that still hasn't been explored yet on the big screen.
On the off chance Batman Beyond has never popped up on your radar in the late '90s and early 2000s, the series' two-part premiere, "Rebirth," opened with a middle-aged Bruce Wayne, now wearing a technologically-advanced Batsuit, suffering a heart attack during a rescue mission and was forced to pull a gun on a criminal about to kill him. Horrified that he had to rely on a gun, something he swore he'd never do, Bruce retired as Batman, vowing, "Never again." That moment occurred 20 years ahead of when Batman Beyond premiered on TV, i.e. 2019. Yes, this year! Does that make you feel old? But I digress.
20 years after that, Bruce meets a teenager named Terry McGinnis, who ends up at Wayne Manor while fleeing from a gang of Jokers. The two of them dispatch the clownish goons, and when Terry helps Bruce back to his house, he accidentally discovers the Batcave, much to Bruce's anger. Soon after, Terry discovers that his father's been murdered and wants revenge on the man responsible (Warren McGinnis' employer, Wayne Enterprises CEO Derek Powers, who would become Blight). Terry then snuck back into the Batcave and stole the Batsuit, and while Bruce was initially opposed to helping Terry, he eventually realized the boy had potential. From there the two began a partnership, with Terry acting as the new Batman out in the field and Bruce feeding him advice and intel from back at the Batcave.
Terry McGinnis has built quite the following of DC fans since he was introduced 20 years ago, and since the start of the decade, he's led various comic book series and even briefly returned to screen for an animated short in 2014 made for Batman's 75th anniversary. However, the character still has yet to make the jump to the big screen, although a live action movie was briefly in development after Batman Beyond premiered. To me, sitting on the Batman Beyond property is a waste of cinematic potential. The Batman Beyond universe is unique enough that it can give moviegoers something new, yet still feeling like classic Batman. Best of all, it doesn't have to conflict with what's being done in the DCEU.
The fact that Warner Bros is released Joker, a 1980s-set origin story for the Clown Prince of Crime starring Joaquin Phoenix means that the studio is open to telling out-of-continuity DC stories. Batman Beyond can easily be handled that way. Matt Reeves can still handle his Batman film series however he chooses, but another filmmaker can play around in a futuristic, Blade Runner-looking Gotham City where the Terry McGinnis Batman is fighting villains like Inque and Shriek with advanced technology, but also using tactics the original Batman relied on. At its best, the Batman Beyond movie would be a visual, cyberpunk spectacle wrapped around a compelling, noir narrative. And, needless to say, it could spawn numerous sequels, although obviously the creative team tackling a Batman Beyond movie should focus first on making a good standalone feature, not on setting up the future.
If the Batman Beyond movie were to be a live action adaptation, this is a great opportunity to bring back Michael Keaton as Bruce Wayne, an idea that's been repeatedly suggested online. This year marks the 30th anniversary of Tim Burton's Batman, and 27 years since he made his final appearance as the Dark Knight in Batman Returns. While he's not quite as old as Bruce is during Batman Beyond, Keaton could still effectively play a Bruce who has been retired from crimefighting for a long time, and then reluctantly takes Terry McGinnis under his wing. It wouldn't be absolutely necessary to reference events from Keaton's previous Batman movies, but the actor's inclusion would at least hammer home that feeling of legacy further.
On the other hand, if Batman Beyond were to be turned into an animated movie, as was originally rumored, it could take a Spider-Man: Into the Spider-Verse-like approach. Not in the sense that we would see Bat-heroes from across the multiverse joining forces (although that would be a blast), but passing along the message that Batman isn't an identity belonging to just one person. Like Bruce Wayne, Terry McGinnis has suffered through tragedy, but he uses those losses and his anger to fight for justice and strike terror into the hearts of criminals. And, as we we saw with the original Batman Beyond animated series, it's still possible to tell a mature story within PG parameters. This isn't The LEGO Batman Movie; even if you want Batman Beyond to be family-friendly, the story still needs to be infused with some darkness.
Some of you might be feeling oversaturated with Batman stories across all media, and that's fair. He's the DC Comics superhero who's been adapted the most across the decades, and there's no sign of that dying down anytime soon. But Batman Beyond isn't just another standard Batman story. Yes, some of those familiar elements are there, but Terry McGinnis isn't a Bruce Wayne knockoff. He's his own man who's distinguished himself from the original Batman in various ways, and after two decades of TV and comic book appearances, it's about time that he snags the spotlight on the big screen, even if it's just to spice things up a bit in the Batman film world.
Rest assured, if there's any update about Batman Beyond being adapted for the big screen, we here at CinemaBlend will be sure to let you know about it. In the meantime, check out our DC movies guide to learn what projects are in development for the DCEU.
This poll is no longer available.
Connoisseur of Marvel, DC, Star Wars, John Wick, MonsterVerse and Doctor Who lore. He's aware he looks like Harry Potter and Clark Kent.
Your Daily Blend of Entertainment News
Thank you for signing up to CinemaBlend. You will receive a verification email shortly.
There was a problem. Please refresh the page and try again.